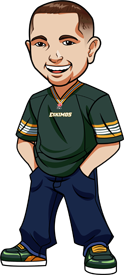 Written by Graeme on Wednesday, October 7th, 2015
Follow @BetCFL
An excellent 3-1 week last week in the CFL.
We predicted the Redblacks would beat the Alouettes and they did just that. The Redblacks dominated the Alouettes and easily covered the 2.5 point spread. However they'd go onto lose a special Tuesday night game last night against the Argonauts which leaves the East wide open.
We had the Stampeders -2.5 and they beat the Tiger-Cats 23-20 in a very close game.
We also had the B.C. Lions -3 and they easily dominated the Roughriders in a 46-20 result.
Our one loss was the Edmonton Eskimos. They beat the Blue Bombers but unfortunately they couldn't quite cover the point spread.
As mentioned there was a Tuesday night games where the Argos stole the victory over the Redblacks with a touchdown in literally the last second. We probably would have taken the Redblacks in that one so holy crap are we glad we missed that. That was just insane and props to Chad Owens for a sick, sick catch.
Here's what we have this week:
Friday, October 9th: Saskatchewan Roughriders @ Hamilton Tiger-Cats
Saturday, October 10th: Edmonton Eskimos @ Calgary Stampeders, Winnipeg Blue Bombers @ B.C. Lions
Monday, October 12th: Toronto Argonauts at Montrel Alouettes
Should be a good week – the East picture will be a lot clearer after this week that's for sure. Can the Tiger-Cats and Argos leave the Redblacks in the Dust? Let's get to it:
Roughriders vs Tiger-Cats Betting Tips:
The Tiger-Cats go into this one with a two game losing streak. Despite that, they are a whopping 7.5 point favourites over the Saskatchewan Roughriders.
That just seems too much.
Yes the Roughriders are crap this season but they have only lost an average of 6.4 points per game. Less than a touchdown. And while the Tiger-Cats to be fair average 12.4 points more a game – the Roughriders rushing game is going to be a fair bit tougher for the Tiger-Cats. Roughriders have gotten a bit better over the last month and even in losing have looked competitive.
I will say the Roughriders road record is still iffy – but we think Tiger-Cats, having lost a couple at home – are struggling and Riders can keep it close.
Eskimos vs Stampeders Betting Tips:
Both teams have clinched playoff berths already. Eskimos will really want the win though knowing a loss means the Stampeders top the West and probably stay there till the end of the season. While both teams have something to play for – I think we have to take the Stampeders -4. They're just that much better than Edmonton and any time it's less than a touchdown I feel we have to take Calgary in the Battle of Alberta.
Blue Bombers vs Lions Betting Tips:
Neither team really has anything to play for. Blue Bombers look like they have given up while the Lions got the win last week. Line is currently Lions -6.5 and that's what we're going for.
Argonauts vs Alouettes Betting Tips:
Massive game in the East. Alouettes have to win or they can kiss their playoff hopes goodbye. Argonauts want to win so they can get some breathing space.
No line up yet. When it is we'll add a tip here courtesy of Bovada so stay tuned to BetCFL.net.
Follow @BetCFL