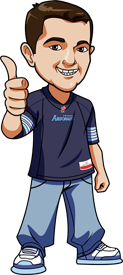 Written by Scott on Friday, October 24th, 2014
Follow @BetCFL
A great week for the CFL Betting Tips as we went 2-0.
We had the Alouettes +4.5. We didn't need the points in this one as the Alouettes came away on top on this one winning 20-12 over the Toronto Argonauts. With the win, Montreal has now passed Toronto to take over first place in the East Division. Toronto dropped to 3rd in the East behind the Als and the Hamilton Tiger-Cats who picked up a win over the Ottawa Redblacks.
Our other win came when we had the Edmonton Eskimos -3.5 over the Saskatchewan Roughriders. We thought at the time this was an easy bet to make and in the end it was as the Eskies came away with the 24-19 win.
Only 3 weeks left in the season and its crunch time for some teams. Se of these match ups this week have HUGe implications and I can't wait to see how it all turns out
Let's get to the CFL Betting Tips for week 18
Alouettes vs Redblacks Betting Tips
Two teams going in opposite directions in this one. One team has had just a horrible year while the other is looking to wrap up first place in the East.
Ottawa is going to have their hands full in this one. Montreal is on the verge of claiming the East Division title so they're not going to let off the gas until the season is finished
Going with Montreal -6.5
Roughriders vs Stampeders Betting Tips
The Riders only have 2 games left since week 19 they have a bye. This is a must win game for them as the B.C Lions are right behind them with an extra game to play.
Calgary is in first place not only in the West Division but the entire CFL. Cornish leads the league in rushing yards and Bo Levi Mitchell is back at QB. All signs point to a Calgary win.
Calgary may win this game but the Riders will keep it close
Roughriders +10.5
Tiger-Cats vs Argonauts Betting Tips
The Argos went from first to third over the weekend. That's gotta sting.
Toronto is desperate for a win in this game. Hamilton is ahead of the Argos in the standings so this has the potential to be the game of the week.
Hamilton is flying high right now but you can never count Toronto out.
Going to go with the Argos -3 in what should be an amazing game
Lions vs Blue Bombers Betting Tips
B.C is rested coming into this game and that could make the difference.
The Lions have gone 3 games without allowing a TD. The Bombers can still make the playoffs but it's going to be a steep hill for them to climb to get in.
Gotta go with the rested Lions
Week 18 picks
Montreal -6.5
Roughriders +10.5
Argonauts-3
Lions -5
Place all of your bets at Bovada
Follow @BetCFL