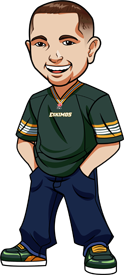 Written by Graeme on Wednesday, November 18th, 2015
Follow @BetCFL
This week in the CFL it is the conference finals to see who will face off in the 2015 Grey Cup.
The finals feature two interesting match-ups. The Tiger-Cats take on the REDBLACKS who started the season hot and amazingly continued their form throughout the season. What a win it would be for this new franchise to get a Grey Cup so early on in their history.
The other game is the real battle with the Calgary Stampeders taking on the Edmonton Eskimos. Many would say that's the real Grey Cup – as either team has to be a favourite over whoever they face from the East.
Both games take place on Sunday, November 22nd with the Tiger-Cats vs REDBLACKS kicking off at 1pm, and then the Stampeders vs Eskimos later in the day at 4:30pm.
Both times are in Eastern Standard Time.
Let's get to the CFL Playoffs Betting Tips:
Tiger-Cats vs REDBLACKS Betting Tips:
The REDBLACKS go…okay I aint typing their name in caps anymore. God I hate it.
The Redblacks go into this one as -6.5 favourites, with an Over/Under set of 50.5. The last time they played Ottawa ran out 44-28 victors in a huge one.
It's amazing to see the Redblacks and their fantastic season. What's more important is the crucial games they have won. The game against Hamilton was also a very important one and they did the bisuness. Twice. They come into this one on the back of a 4 game winning streak.
I just don't see how we can't go with anyone BUT the Ottawa Redblacks here. Even with the point spread you have to expect them to cover it. They have looked absolutely phenemomenal all season and we expect them to continue.
Take the Redblacks -6.5.
Stampeders vs Eskimos Betting Tips:
What a massive, massive game.
The Eskimos are 3 point favourites for this one, with the Over/Under set at 47 points.
The Eskimos got the better of the Stampeders last two times they played although Calgary won once this season already. Edmonton go into this one on teh back of a huge winning streak where they are firing on all cylinders.
It's such a difficult game but we think we have to go with Eskimos -3. They have just did such a great job lately at dispatching everyone and being at home is really going to help them.
NHL Betting Tips:
As the CFL season is wrapping up, we want to invite everyone over to BetNHL.ca where we provide free daily betting tips for the NHL. We've been providing betting tips every season for 3 years now and are up over 150 units profit.
We provide in-depth analysis of the NHL games and we're always happy to answer any questions about games we don't tip.
So head on over to BetNHL.ca now!
Follow @BetCFL