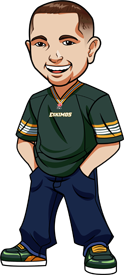 Written by Graeme on Thursday, September 5th, 2019
Follow @BetCFL
it was a quieter week in the CFL last week with only three games. Unfortunately it was a bad betting week for us.
We had the Roughriders -5.5. The Bombers were missing some key players and we thought that'd hurt them. It looked that way after the 1st quarter when Saskatchewan roared off to a 10-0 lead. However it ended up being a much closer game, and the Roughriders stumbled out to a 19-17 victory. Enough for the win, not enough for the point spread.
We had Tiger-Cats -11.5 over the Toronto Argonauts. They blew them away 38-27 but for the math wizards out there – that was half a point away from being enough. Tiger-Cats won by 11 thanks to a big 4th quarter after a fiery performance from the Argonauts. Very disappointing one by Hamilton honestly.
The final game was Eskimos vs Stampeders and we expected an exciting one there. That was not the case at the Stampeders slowly defeated the Eskimos 25-9.
We're back to four games this week and it all kicks off tomorrow with the Lions vs Alouettes. We then have all day CFL Saturday with games at 1pm, 4pm and 7pm. Great day to sit at home and get prepped for sitting at home the next day watching football.
Let's get to it:
Lions vs Alouettes Betting Tips
The Montreal Alouettes bring a 2 game winning streak into this one as they sit 2nd in the East. The BC Lions have lost their last 6 and have a 1-9-0 record.
The Alouettes are 6.5 point favourites for this one. They will be hoping that Vernon Adams Jr. keeps his hot streak going and that the bye week didn't kill it.
Even if he isn't too hot, the running game is excellent in Montreal and is one of the best in the league.
Lions have brought in the changes at the offensive line coach position.
Montreal are the better team and to get them for less than a touchdown – gotta take it.
Argonauts vs Redblacks Betting Tips
The Argonauts are 5.5 point underdogs in this one. They are 1-9-0 but had a good performance last week. Ottawa are chasing the Alouettes for 2nd place in the East but have lost their last 3.
Honestly this seems like a dismal affair between two poor teams. A lot of people might want to pound the over in this one. Argos offense looked better last week and Redblacks have bad defense. I think it'll be a quieter affair though.
Roughriders vs Blue Bombers Betting Tips
The Blue Bombers are slight 1.5 point favourites in this one. they will want to keep their perfect home record but Saskatchewan have been on a tear and have won 6 in a row. This promises to be a good game.
Johnny Augustine stepped up well last week with Harris out. This is really an intriguing game I've got to say. It's a big test for both teams.
I think the Bombers home performances are enough though and they get a revenge win.
Stampeders vs Eskimos Betting Tips
Last week was a disappointing one. Eskimos yet again struggled to beat the Stampeders defense.
Edmonton have a solid record over the Stampeders at home lately however they are yet to beat any of the teams who stand above them in the West. Bo Levi Mitchell looked solid last week.
Follow @BetCFL