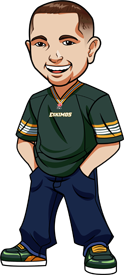 Written by Graeme on Thursday, October 4th, 2018
Follow @BetCFL
Unfortunately after a great winning run we've now made it 2 losing weeks in a row on the final stretch of the CFL regular season.
It got off to a great start as well. We had Stampeders -13.5 and they covered with ease with a big 22 point victory over the Toronto Argonauts. Unfortunately it was all downhill from there.
The Lions vs Tiger-Cats game wasn't as close as the previous week. Just the opposite as the Hamilton offense remained alive and got a big 40-10 win.
We had the Eskimos -6 knowing how important a victory is and they got absolutely blown away. They lost 30-3 in an absolutely embarassing game for the Alberta side.
We hoped the Saskatchewan Roughriders would steal it for us and make it a 2-2 week alas while they won by 5 points we had them -6.5. But hey props to Johnny Manziel for getting two touchdowns and throwing no picks.
Standings wise with just a month left of regular season football, the Stampeders are the only ones who have clinched the playoffs. In the West it's wide open. Saskatchewan LOOK like they're good for it but nothing is confirmed yet. All 4 of them can make it to the playoffs.
In the East it's Ottawa and Hamilton. I guess mathematically Argonauts and Alouettes COULD do it but really hard to see that happening at this stage.
Let's get on with the betting tips for Week 17 of the CFL Season:
Blue Bombers vs Redblacks Betting Tips:
Winnipeg go into this one as 1.5 point underdogs. Winnipeg are coming off that absolutely massive win over Edmonton and they showed that they are here to compete. That was huge and they come into this one with a two game winning streak.
It was a big game from their defense and I expect something similar. I expect we see more of a running game in this one. I'm very tempted with the Under 52.5 as I don't think we will see as much passing but then the running games are so strong for either side that may not matter.
However after Winnipegs performance last week I gotta take them. They look like they have the drive and if they can do to Harris what they did to Reilly? Look out.
Argonauts vs Lions Betting Tips:
The BC Lions are a touchdown favourite in this home game against Toronto and I don't think it is enough.
The Argonauts are without James Wilder Jr. I believe and the coaching just seems a mess right now. They look all over the place.
Argonauts are very poor on the road and despite last weeks brutal performance I expect a solid bounce back.
Stampeders vs Alouettes Betting Tips:
While it was a close one last week for Montreal it was a rather flattering result as they had a lot of luck. However it was good to see Johnny Manziel who is starting to get confidence and make the role his own. Seeing flashes as to why he was picked in the NFL.
The Stampeders are -12.5 and that's an interesting one. Can Montreal keep that luck going? They didn't get the yardage ideally but they were effective in doing so.
I'm staying away from this one.
Eskimos vs Roughriders Betting Tips:
Eskimos are 3.5 point underdogs in the most intriguing game of the week. I believe if Winnipeg or BC lose and Saskatchewan win, they will cement a playoff place.
I felt the Roughriders were unlucky not to win by more against Montreal and Edmonton firing McDiarmid etc – just seems bad locker room mojo going around there.
Even if Williams plays I gotta go with:
Follow @BetCFL