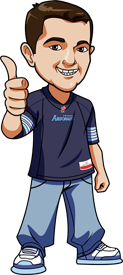 Written by Scott on Tuesday, July 7th, 2015
Follow @BetCFL
Ouch!! Cue the Price is Right losing song. Terrible week. So hard to predict these early games when teams have a fresh start after the last season.
We had the Bombers +1.5 against the Ticats and we couldn't have been more wrong in this one. It was the Ticats running away with the huge 52-26 win. Ticats QB Zach Collaros had a great game going 26-33 for 354 yards and 2 tds and Hamilton's D picked off two passes and took them in for scores.
Next we had the Stampeders to beat the Alouettes. But it was Montreal coming away with the 29-11 win. Rakeem Cato got the start and went 20-25 for 241 yards and 3 TDs.
We had the Lions to open up their season with a win against the Ottawa Redblacks but it wasn't going to happen as Ottawa won 27-16. Ottawa has already matched their win total from last season.
Finally we went with the Roughriders -3 against the Argos. And yep. You guessed it the Argos came away with the 42-40 OT win. Argos QB Trevor Harris went 30-38 with 4 TDs and 1 interception.
Tough start to the season. Let's get to week 3 and have a nice winning week with the tips.
Here's the schedule for week 3 of the 2015 CFL Season:
Thursday, July 9th Redblacks vs Eskimos @ 9:00pm
Friday, July 10th Alouettes vs Blue Bombers @ 7:00pm, Roughriders vs Lions @ 10:00pm
Monday, July 13th Argonauts vs Stampeders @ 9:00pm
Redblacks vs Eskimos Betting Tips
Sure the Redblacks have had a fantastic start to the season. But how long can they keep it up?
This is Edmonton's home opener and they had a week off to prepare for this game and try and pick up their first win. I'm glad Ottawa has been good so far but I'm not sold that they are for real.
Eskimos -5.5 for 1.91 at Bovada
Alouettes vs Blue Bombers Betting Tips
Both teams come into this game starting their season 1-1. For Montreal, this is their first road game of the season.
The Bombers Brian Brohm got the start at quarterback for an injured Drew Willy and struggled going 16-28 for 146 yards and two interceptions
Alouettes Win
Roughriders vs Lions Betting Tips
The Roughriders play their first road game of the season and will be looking to pick up their first win of the year. The Lions have only played 1 game so far and are also looking for their first win.
Lions had week 1 off and it looked like they decided to take week 2 off also after getting pounded by Ottawa.
Riders +3.5 for 1.91
Argonauts vs Stampeders Betting Tips
The Argos have been great so far. Trevor Harris has thrown for 600+ yards with 7 TDs and only 1 interception. The Stamps have had an up and down start. They are 1-1 and picked up their win in week 1 by narrowly beating the Ticats 24-23.
The Spread is Stamps -6. I am having a tough time predicting this game thanks to the Argos good start. I think the Stamps come away with the win but it will be close one.
Argos +6 for 1.91 at Bovada
Follow @BetCFL