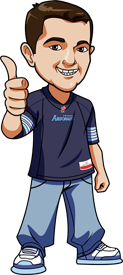 Written by Scott on Friday, August 29th, 2014
Follow @BetCFL
That's a much better week for us and the CFL Betting Tips. We ended up going 3-1 but could have easily been 2-2.
Our loss of the week came when we had the B.C Lions -2.5 over the Saskatchewan Rough Riders. The Lions jumped out to an early 10-0 lead after the first but the Riders stayed in the game and won 20-16. The loss ended the Lions win streak at 3 games while the win pushed the Rough Riders winning streak to 5 games.
Win # 1 came when we had the Blue Bombers -7.5 over the Alouettes. This was an intense game and came right down to the final minutes for us to pick up the spread. But the Bombers Nic Grigsby ran a 26 yard TD with 2:08 left in the 4th and then the Bombers kicked a 17 yard field goal with less then a minute left to give the Bombers the 8 point win, covering the -7.5, 24-16.
Win # 2 was picked up with our tip of the Edmonton Eskimos -7.5 over the Argonauts with the Eskies coming away with the 41-27 win. Two Edmonton defensive TDs carried them, one a interception returned 19 yards for the score the other a fumble recovered then brought back.
Win #3 was an easy pick and win for us. The Stampeder destroyed the Redblacks 32-7 easily covering the Stamps – 8.5 spread. The Redblacks struck first early in the game on an interception returned for a TD. But from there on it was all Calgary highlighted by a 21 point 4th quarter.
With both Edmonton and Calgary picking up the wins they remain tied for first in the West and CFL but that's about to change.
Here's how the schedule looks for week 10:
Friday, August 29th : Redblacks vs Alouettes @ 7:30 pm
Sunday, August 31st: Blue Bombers vs Rough Riders @ 4:00 pm
Monday, September 1st : Argonauts vs Tiger-Cats @ 1:00 pm, Eskimos vs Stampeders @4:30 pm
Ok so let's keep the winning streak alive and have a look at the CFL Week 10 Betting Tips
Redblacks vs Alouettes Betting Tips
Wow, a combined 2 wins between these teams so far this season.
Both have bad horrible seasons as expected but something has got to give.
This is a game where both teams see it as a game they can win and where they can build off of it. But who comes out on top of this game is a tough call.
With the Als at home it looks like it will go on the favor but again this is the same Montreal team that is on a 6 game paint skid that started on July 11th.
Something tells me this is a bet I'm going to lose but I just can't change my mind here.
Bet the Ottawa Redblacks money line for 2.85 odds at Bovada
Blue Bombers vs Rough Riders Betting Tips
This is going to be an amazing game. But predicting the outcome has proven to be difficult.
We have gone back and forth on this one and we just can't seem to come away with a winner.
Both teams are strong and currently tied for 3rd in the competitive West. Both have strong D's so going to hope for a low scoring game here
Bet the Bomber vs Riders Under at Bovada
Argonauts vs Tiger-Cats Betting Tip
Well the Ticats now have to find ways to win without their starting QB as Dan LeFevour went down with an injury on August 16th.
And to make matters even worse, Hamilton won't know if their home stadium will be ready until the day beige the game.
To much uncertainty in this one for Hamilton.
Got to go with the Argonauts -2 at Bovada
Eskimos vs Stampeders Betting Tips
This is the game we have all been waiting for and no matter who comes out on top in this game it's going to be unreal.
These teams have the the same record, 7-1, and are tied for both first in the West Division and first overall in the CFL
They play again next Saturday but that game will be in Edmonton. Both teams have no glaring weaknesses
This version of the Labour Day Classic will be just that. A classic.
Edmonton's only loss this year came at the hands of the Stamps so they will be out for revenge.
Mike Reilly left lasts weeks game with a hand injury. No word on if he will miss any time. But even if he does return for this game will he be 100%
Trying to predict this game is so tough. But you have to like the Stamps at home. Again this is the game of the week and possibly the season so be sure to catch this one.
Bet The Stampeders -4 As always place any and all CFL bets at Bovada
Follow @BetCFL