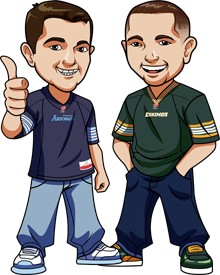 Written by Graeme & Scott on Friday, September 12th, 2014
What a fantastic time to be a football fan. We have the CFL in full swing and now the NFL season is already a week olds mad many of us are doing daily tweaks to our fantasy teams.
Last week had some incredible action taking place in the CFL.
The Lions just barely squeaked by the Redblacks winning 7-5. This game was…. well really boring. All points came off of kicks with the only exception being an Ottawa safety.
The Stamps were again able to win against the Eskimos this time 41-34. This was an awesome game and the 4th quarter alone saw 34 points being put up on the board with 24 of ten coming from Edmonton. Bo Levi Mitchell threw for two TDs and ran for two more and now has the record for best start by a quarterback in CFL history winning 12 of his first 13 games. With the win the Stamps are now pulling away from everyone else in the standings.
The Alouettes managed to give up 17 first quarter points yet still came away with the win over the Ticats 38-31. And now that Montreal has their QB situation sorted out this is only going to help them in moving forward in the weaker East Divison. Jonathan Crompton passed for 206 yards with a touchdown and looks better and better with each passing game. The Als are now tied for first in the East with the Argos
And the Roughriders pushed their winning streak to 7 games with a very important win over the Winnipeg Blue Bombers. But this win came with a huge price. Riders star QB Darian Durant left the game in the third quarter with an elbow injury and news came out now that he will miss the rest of the season. In comes Tino Sunseri to try and help ease the loss but players like Durant aren't easily replaced so the Riders now have their work cut out for them as they try to defend the title from last season.
Alright so here's how the schedule looks for the CFL for week 12:
Friday, September 12th : Alouettes vs Eskimos @ 9:00pm
Saturday, September 13th : Argonauts vs Stampeders @ 7:00pm, Blue Bombers vs Lions @ 10:00pm
Sunday, September 14th: Roughriders vs Tiger-Cats @ 1:00pm
And now onto the betting tips for week 12 in the CFL.
Alouettes vs Eskimos Betting Tips
Montreal has won their last two games over teams with a combined 3 wins (Ottawa 1 & Hamilton 2). The competition really picks up this week for them when they're in Edmonton to take on the 7 win Eskies
For Montreal though Crompton looks like the real deal I just don't see him and the Als having a nice easy game here just the opposite.
Edmonton is hungry for a win after losing the last two games to the Calgary Stampeders. They were once tied for first in the CFL now sit in third behind the Stamps and Riders
I like Edmonton to come away with the win in this game but I don't like the 10 point spread
So we are going to take Montreal +10 at Bovada for Americans and Sports Interaction for everyone else for 1.87 odds
Argonauts vs Stampeders Betting Tips
The Stamps look just unstoppable right now. They're on a 5 game win streak and Mitchell looks amazing.
The Argos are coming off a bye week and despite only having 3 wins, still lead the East Division.
But the Stamps are beasts who have only one loss to their name and that came when they lost by one point in the final minutes to the B.C Lions.
Bet Calgary over at Bovada for Americans and Sports Interaction for everyone else
Blue Bombers vs Lions Betting Tips
The Blue Bombers have had an up and down season. They have gone on 2 game losing streaks twice this year.
But they have played the Lions already during week 5 and won with ease 23-6.
These two teams are currently tied with 12 points but the Bombers have played one more game then the Lions. This game is important for both teams and for B.C they will be looking to avenge their previous loss.
But I think this game will be a close one. So for that reason alone we got to go with Blue Bombers +7
Roughriders vs Tiger-Cats Betting Tips
During week 1 these teams played and it was Saskatchewan coming away with the 31-10 win. But that was a long time ago.
This will be the second game at the new Tim Hortons Field with Hamilton looking to win again after winning game #1 at their new home against the Argos
Even without Durant, the Riders are still an amazing team. They are better then the Ticats at virtually every aspect of the game.
Roughriders +1 for 1.91 at Bovada for Americans and Sports Interaction for everyone else
[social]