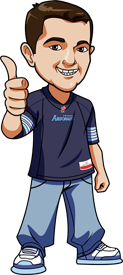 Written by Scott on Wednesday, November 13th, 2013
Follow @BetCFL
The 2013 CFL Eastern Final is about to take place. It will happen Sunday, November 17th at 1:00pm ET from the Rogers Centre and it should and will be a fantastic game. The First place Toronto Argonauts take on the Hamilton Tiger-Cats in their first meeting in the Eastern Final since 1986. This is one of the longest running rivalries in all of sports so this game on Sunday is only going to intensify it.
By finishing the season in 1st place in the East, the Argos earned a bye last week. And a week off could only help them to not only rest but to go over their game plan and to reset themselves after losing the regular season final game to the Montreal Alouettes.
Hamilton played last week and what a thrilling game this turned out to be. They were able to come out on top 19 – 16 over the Montreal Alouettes but they needed Overtime to do it. This game showcased why Henry Burris is a living legend. With 5 minutes left to play he orchestrated a 12 play, 97 yard touchdown drive to take the lead only to have Montreal tie it late.
2013 CFL Eastern Final Betting Odds
Over / Under 54
Point Spread Hamilton +4, Toronto-4
With so much riding on the line you have to think that a rested Argos team will be moving on to the Grey Cup to defend their Championship. Bet the Toronto Argonauts -4 at Bovada for 1.91 betting odds
2013 CFL East Final Betting Tips
Hamilton and Toronto played 3 times this year and the Ticats were able to win the final 2 games after Toronto won the week 1 matchup. But what happened during the regular season has nothing to do with what will happen on Sunday and both teams understand that.
The success that Ticats running back Dan LeFevour has had has been noticed by the Argos and they have had time to prepare for what he will be bringing to this game and should easily be dealt with.
Toronto has had a week off to rest and to go over their plan of attack. They also are familiar with these games as evidence by last year's not only winning the East Division but the whole thing as the winners of the 100th Grey Cup.
This will be a high scoring game but with the experience and rest that Toronto has going for them they will again be moving on to the Grey Cup final.
2013 CFL East Final Props
Also available to bet on at Bovada is game props. You can bet on many different props for this game but here are few that have a chance making us some cash.
First team to score is really just a 50/50 shot but with the Argos having fresh legs and the crazy home fans behind them, they are a good bet for 1.74 betting odds.
Also since the Argos are going to score first you might as well also place a bet on them to be the first team to 10 points.
And last but not least is the Over / Under on the first half. This is going to be a high scoring game and the scoring should begin shortly after this game starts. The First Half Over/Under is 27 so let's bet over for 1.91 betting odds at Bovada
Follow @BetCFL