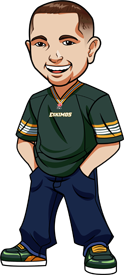 Written by Graeme on Wednesday, August 22nd, 2018
Follow @BetCFL
It was a 2-2 week last week with some real interesting results.
Let's talk about the losses first. We lost with the Winnipeg Blue Bombers -6.5 over the Ottawa Redblacks. The Redblacks thumped Winnipeg in their home ground 44-21. The Bombers winning streak ground to a halt and it was a key win for the Redblacks who had been stuttering somewhat. A big road win like that will give them a lot of confidence.
We also lost with the Stampeders -7. I mean like we said last week – gotta keep backing the Stampeders until we are given a reason not to. There's the reason. Roughriders ended the Stampeders undefeated streak in style with a massive win. Defense was the name of the game here and Calgary didn't know how to handle it. They blitzed often, showed some real different formations and the Stampeders OL were at a loss to figure out how to handle it. Mitchell gut sacked 5 times. Great win for Saskatchewan and nice to see that if that team really wants a win, they can get it.
We won with the Argonauts +1.5 and we didn't need the points as in a very close scoreline, Argos won 24-23. Lions came so close at the end and it was great that they couldn't complete the comeback.
We also had a dirty win of half a point with Alouettes +16.5. Johnny Football didn't play and it looks like he will miss this week too.
I haven't looked at attendances or anything but an interesting thing about that was I know quite a few people who never go to Eskimos games that went there JUST to see Manziel in action. Then they were actually wondering why he wasn't playing – as they didn't read any CFL news about it I guess. So it's pretty cool to see that sort of casual interest in it at least.
Let's check out this weeks games:
Eskimos vs Tiger Cats Betting Tips
The Eskimos are 3 point underdogs in this one. They're currently 2nd in the West and playing the 3rd in the East Hamilton Tiger-Cats. We all know Hamilton can have an electric offense at times but also have a solid defense.
For me a large part of this one is motivation. I guess its similar to the Roughriders last week – Eskimos seem to want this one bad. They seem to be talking a lot about the 38-21 thumping back in Week 2.
I'm all for a motivated team and with Hamilton being hot/cold I'm feeling good with Edmonton.
Argonauts vs Alouettes Betting Tips
The Argonauts are giving up just 5.5 points in this one.
Argos aren't great but man they have shown a lot of fighting spirit. I know they are 0-3-0 on the road and all but I think we've just go to take them against Montreal. If the Alouettes keep it close so be it but the Alouettes have been just brutal all over the field.
Argonauts -5.5 is the play in this one
Blue Bombers vs Stampeders Betting Tips
Will the Stampeders bounce back? They are 9 point favourites over the Blue Bombers. The Blue Bombers are 5-4-0.
An intriguing matchup for sure. Saskatchewan were able to beat the Stampeders but they had obviously been preparing for that one. Not like you can just go out there unorthodox and blitzing on a few days notice.
I think that one was more about the quality of Saskatchewan and I gotta think Calgary bounce back.
Going with Stampeders to bounce back. Stampeders -9 – bet it with the bonus! Click here.
Roughriders vs Lions Betting Tips
Lions are 3 point favourites and I gotta go with Saskatchewan. We're seeing something similar to last season it seems where they are slow starters but get rolling. Collaros actually looks like he may be stepping up. I could just be jumping on a bandwagon after last week but I love them Riders this week.
Follow @BetCFL