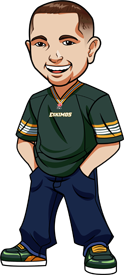 Written by Graeme on Thursday, October 31st, 2019
Follow @BetCFL
No tips last week due to time constraints.
The week prior however was an excellent week as I was able to steer us to a 3-0 week.
We had the Argonauts +10.5. I said Toronto would be up for the game and look to finish the season strong. They did so as they almost won there and easily covered the point spread. They also beat the Redblacks last week as they look to have a big finish.
The Roughriders -7 was the play against the Lions in Week 19. That one was a bit closer but Roughriders won 27-19 to cover the point spread with a point to spare. I'll take it.
I didn't go with anything that week in the Redblacks vs Tiger-Cats game however I took Blue Bombers +7 against the Stampeders. Bombers had a big game there and Calgary could only won by 4.
Nice 3-0 week and hopefully to end the regular season, I can have another 100% week. Would be nice.
Let's look at this weeks action and don't worry we will be back to cover the playoffs:
Alouettes at Redblacks Betting Tips
Alouettes are 9.5 point favourites here. Ottawa have taken a few thumpings lately. They look like they have already given up on the season.
Alouettes will be hoping to take a win into the playoffs. They have also had a few stumbling blocks lately. However Khari Jones seems focused on the playoffs and just keeping his team healthy so that's interesting.
Honestly for me it's all about pride in Ottawa and if they have any. It's been a dismal season for the team that made the Grey Cup last year and won the freaking thing a couple of years ago.
At home where they have been atrocious with a 1-7 record, I think they are able to stand up strong here against an Alouettes side who just want to get to the playoffs in one pice.
Redblacks +9.5. Don't let me down boys.
Eskimos at Roughriders Betting Tips
The Eskimos are 10 point underdogs here. They've aleady got a playoff spot by clinching the crossover and can't improve themselves. Saskatchewan meanwhile aren't confirmed to top the West yet so will be looking for that win here.
Last week Roughriders won a tight one 27-24.
How can you bet against Saskatchewan here? I've got to root for them to win the West and do it in style.
I'd advise a smaller bet on this one but Saskatchewan -10
Argonauts at Tiger-Cats Betting Tips
So Toronto have been finishing the season strong. Question is can they continue to do so as they take on the Tiger-Cats? Sportsbook think not as the point spread is 11.5 here.
Hamilton have handed out thumpings lately to the Alouettes and Redblacks.
Honestly I want to go with the Argonauts here. I've been quietly rooting them on with finishing the season strong. But I also can't bet against Hamilton. No bet for me.
Stampeders at Lions Betting Tips
This COULD be a massive game for calgary depending on if the Roughriders beat the Eskimos or not.
They also have to be careful as a loss could see them go 3rd behind the Blue Bombers.
They need to at least win here to get a home game in the playoffs.
They suffered that loss last week to Winnipeg though.
Honestly I'd be up for the Lions here as Stamps aren't convincing. However the Lions are brutal.
No bet for me. But I do think Lions might keep this closer and 7.5 isn't too bad.
Follow @BetCFL