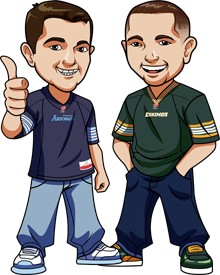 Written by Graeme & Scott on Tuesday, November 5th, 2013
Follow @BetCFL
The CFL Eastern Conference Semi-Final takes place on Sunday, November 10th and is the early game of the day. It features the Montreal Alouettes versus the Hamilton Tiger-Cats. The Tiger-Cats play host in Alumni Stadium – a place they really made their home(as it's in Guelph) this season after a rocky start.
In the three games that these teams played against each other in the 2013 CFL Season, this were the results:
September 21st: Montreal Alouettes 26-28 Hamilton Tiger-Cats
October 20th: Hamilton Tiger-Cats 5-36 Montreal Alouettes
October 26th: Montreal Alouettes 24-27 Hamilton Tiger-Cats
On the one road game, the Tiger-Cats got destroyed but in the other two games both were very competitive affairs. The two didn't actually meet till late in the season, with Week 13 being their first match-up.
The Tiger-Cats had the much better season, coming 2nd in the East with 20 points and a 10-8 record. The Alouettes had an 8-10 record and ended up with 16 points. What IS notable is that the Tiger-Cats scored 453 to the Alouettes 459, and conceded 468 to the Alouettes 4-7-1. Both teams were crazy close throughout the season.
Let's check out the betting odds:
CFL 2013 Eastern Conference Semi-Final Betting Odds:
Point Spread: Alouettes +3.5 vs Tiger-Cats -3.5.
Over Under: 53 points.
Lines are at Bovada and we recommend Over 53 points.
Let's quickly cover our reasons for that:
CFL 2013 Eastern Conference Semi-Final Betting Tips:
Both these teams have tight games together. It's mostly in the offense though – defense as you can see when they match-up the defenses are weak. Offense is where it is at in these two games.
This is of course the Eastern Conference Semi-Final. There's no room to be conservative. Both these teams will be going at it and going at it hard. They are going to be throwing bombs and taking risks. When that happens in the CFL – well it can lead to a lot of sloppy plays.
We just see this being an equally offensive game by both teams who will be rushing through the offense knowing time is ticking. Every play is important and I think we'll see a few punt return TDs and interception TDs as well.
Eastern Conference Semi-Final Props:
If you're looking for props, then Bovada is the place to go.
You can bet the First half winner, as well as the over/under on the first half. You can also bet Race to 10 points – Montreal are pretty good odds at 2.05 there.
You can bet the first team to score. Again, Montreal are solid odds in what is essentially a coinflip they are 1.93 odds. I'd be leaning towards that.
The first scoring play is a bet where you can place bets on for example Montreal will score first with a touchdown, or the Tiger-Cats will score first with a field goal. Personally I'd skip that and just go for First Team to score and go with Montreal there.
You can also bet Half-Time/Full-Time. It depends on who you think will win this game, but I'd use that to bet the opposite at half-time. If you like the Alouettes to win, bet Hamilton-Montreal at 6.00 odds. Both these teams match up very well and they will go in at the half very close.
There will also be live betting available including on the second half at Bovada. On top of that you can bet the Winning Margin and that's an interesting one. For example you can bet a team to win by 1-6 points, 7-12 points all the way up to 43+ points. Wow. Don't do that one hawha.
But these are some good props and honestly based on previous results, Hamilton to win 1-6 is very favourable.
Bet these CFL props over at Bovada.
Follow @BetCFL