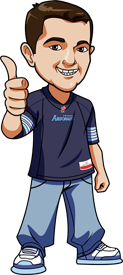 Written by Scott on Thursday, October 29th, 2015
Follow @BetCFL
Finished last week going 1-3.
We had the Argos -8 against the Alouettes but Montreal came out swinging and picked up the convincing 34-2 win.  Toronto got their only points of the game on a safety. 
We had the Ticats -1 against the Lions but the Lions won 40-13. Big game from Lions running back Andrew Harris who had 2 touchdowns on 16 carries and 119 yards.
We had the Redblacks to beat the Blue Bombers and they did winning 27-20. With the win, Ottawa moved into a tie for 1st place in the East with the Tiger-Cats.
Lastly we had the Roughriders +8.5 against the Eskimos but Edmonton won by 11 in their 35-24 victory.  With the win the Eskies are now in first place in the West and the league.
I have to keep these quick.  There's a huge storm blowing through here and the power keeps flickering which knocks out the Internet.   Sorry folks but mother nature can be a bitch.
Here's the week 19 schedule:
Friday, October 30th Lions vs Argonauts @ 7:00
Saturday, October 31st Roughriders vs Stampeders @ 3:00
Sunday, November 1st Redblacks vs Tiger-Cats @1:00, Alouettes vs Eskimos @ 4:00
Lions vs Argonauts Betting Tips
Both of these teams are heading in opposite directions.  The Lions are playing their best football of the year while the Argos come into this game in 3rd place in the East and have lost their last 2 games.
The Lions look great and have Harris playing like a beast.  The momentum will carry over to this game
Lions +3.5 for 1.91
Roughriders vs Stampeders Betting Tips
Calgary needs this win to put some pressure on the Eskies.  The Riders have nothing to lose in this one.  After their horrific start to the year they knew they never stood a chance.
The huge spread scares me here.  I think Calgary wins but I not sure they will cover the massive 14.5 spread. 
Roughriders +14.5 for 1.83
Redblacks vs Tiger-Cats Betting Tips
This should be a great game. It's also the first part of a home and home for these two teams.   These teams are tied for 1st place in the East with 10-6 records for 20 points. What an amazing way to end the season.  Nobody thought Ottawa would be fighting for first place this late in the year.
I have to go with the home team Ticats in this one.
Tiger-Cats -4 for 1.91
Alouettes vs Eskimos Betting Tips
So much pressure on Edmonton to win this game with the Stamps right there chasing them down.  They have won their last 7 games so they're doing all they can to hold their position.
Kevin Glenn has been good for the Als at QB since coming over in a trade but I'm not sure he and Montreal can upset the Eskies and snap their streak.
I like the Eskimos to win this game but I see Montreal keeping it close 
Alouettes +9.5 for 1.77
Place any and all CFL bets at Bovada
Happy Halloween everyone.  Be safe and have fun!! Just don't dress as Caitlyn Jenner please
Follow @BetCFL