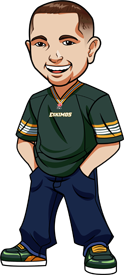 Written by Graeme on Saturday, June 22nd, 2013
Week 1 of the CFL season kicks off on Thursday, June 27th with the Alouettes vs the Blue Bombers. It closes off on Saturday, June 29th with an afternoon game as the Saskatchewan Roughridgers visit the Edmonton Eskimos.
Last season in the regular season, both the Roughriders and the Eskimos finished bottom of the West respectively. They made the playoffs, but both fell at the first hurdle. Edmonton fell to Toronto 42-26, while the Roughriders battled extremely well before ultimately falling to Calgary 36-30.
These two teams also met in Pre-Season A. The Roughriders defeated Edmonton 31-24 in that game. In pre-season B the Eskimos defeated the Lions 27-22, and the Roughriders lost a tight one to the Calgary Stampeders – 24-23 in a tight one.
Let's check out the betting odds for this game before jumping into the tips: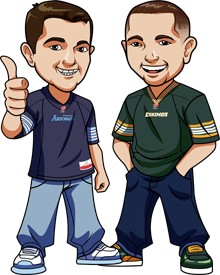 Quick note for people from United States: Be sure to subscribe to our weekly CFL tips, because not only will you get the tips e-mailed to you every week but we're working on some special mailing list exclusive bonuses and free bets only for people from United States.

Enter your email address to subscribe to weekly CFL Tips for free:

Roughriders vs Eskimos Betting Odds:
Over/Under: 49pts.
Spread: Roughriders +1, Eskimos -1.
The oddsmakers except this one to be a tight one obviously, with just the one point handicap. The best price on all of this is at Bovada for Americans and Sports Interaction for everyone else.
Roughriders vs Eskimos Betting Tips:
My recommended bet is the Eskimos -1, odds of 1.95 available at Bovada for Americans and Sports Interaction for everyone else.
First – you have to remember that the Grey Cup is in Saskatchewan this year. The CFL honestly doesn't get a lot of betting action – so you normally see the host city have relatively low odds due to everyone betting on them to win the Grey Cup. You also see that affect the first few weeks of the CFL lines, particularly in this game.
The true line for this one in my opinion is Eskimos -4, and I believe we are getting excellent value on the Eskimos in Week 1.
And a large part of that is Mike Reilly.
Formerly the backup QB of the BC Lions, Reilly stepped in last week against BC and stamped his authority on the game. He threw for a TD and for 202 yards which was impressive, and just looked very, very solid. The touchdown pass was a fantastic 50-yarder to Koch – and the way Reilly dealt with it under heavy presure was excellent. He looked very sharp – which is just what Edmonton need.
Reilly is also assured the starter position. He knows the Eskimos have confidence in him. He also looked relaxed and very calm – he's going to be a big part of Edmonton this season.
Saskatchewan meanwhile – well first let me say I called it! In my West Division preview I said that Simon was a bad pickup and he was let go for a reason; he would be consistent with injuries. What happened in pre-season? INJURED!
The quote from Durant was key: "We'll get our chemistry going". They don't have it yet, and Durant was sacked a whopping 5 times. The Roughriders O-Line was a mess. It's pre-season but they just did not look sharp.
I really like the Eskimos here. Mike Reilly I think is going to be a star of the season and the best pickup of the season.
Bet the Eskimos -1, Bovada for Americans and Sports Interaction for everyone else is the best place to do just that.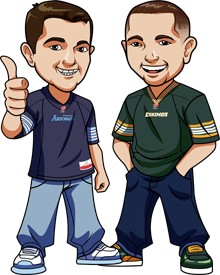 Quick note for people from United States: Be sure to subscribe to our weekly CFL tips, because not only will you get the tips e-mailed to you every week but we're working on some special mailing list exclusive bonuses and free bets only for people from United States.

Enter your email address to subscribe to weekly CFL Tips for free:

[social]