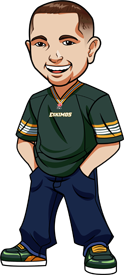 Written by Graeme on Thursday, September 29th, 2022
Follow @BetCFL
We are just a few weeks away from the end of the CFL season.
We have no Thursday games for Week 17 of the CFL.
We've got two on Friday as the Blue Bombers host the Roughriders, and the Lion host hte Redblacks.Tthen two on Saturday as the Elks host the Alouettes with an early 4pm EST kickoff, and the Calgary Stampders host the Toronto Argonauts.
After that just four more weeks remaining.
Toronto have had a resurgence as of late which is nice with 4 wins in a row and Montreal are also stepping up. Nice to see teams in the East actually rack up the wins. Then you have Saskatchewan who have lost a whopping three on the trot.
Here are my thoughts:
Roughriders @ Bombers:
The Bombers are 8 point favourites in this one. Winnipeg suffered their 2nd loss of the season prior to their bye week against the Tiger-Cats. They just played the Roughriders twice blowing them out once and then a close game in Saskatchewan.
Saskatchewan also coming off a bye week. I like the bye week to motivate Winnipeg after that Hamilton game. It was like they took the week off too soon.
Blue Bombers -8 as they get the big win and will set up a home playoff match.
Redblacks @ Lions:
The BC Lions are 7 point favourites at home to the Ottawa Redblacks. Ottawa are don and dusted this season while BC are fighting to hold onto 2nd spot in the West and a win here would be helpful for them.
They've been all over the place recently, losing to Montreal, then a hard fought OT win over Calgary before getting blown out.
Ottawa are generally there for the taking you'd expect although sometimes they show up out of nowhere.
Ottawa actually opened at 9.5 and people have bet them down. BC Of course missing Nathan Rourke which is hard to overcome. Adams isn't stepping up like you'd hope.
I have a sneaky suspicion the Lions get it together this week but I can't back them. No bet.
Alouettes @ Elks:
The Elks are 3.5 point dogs in this home fixture against the surging Alouettes. Montreal got wins over B.C. and Hamilton. Edmonton are coming off a bye which they went into with a hard fought win over Saskatchewan.
The Elks barely beat Montreal back in Week 6 32-31. I'm liking what I am seeing from Trevor Harris at Montreal. Him and Lewis especially are looking good together.
The Elks however had had some big fightbacks lately which is concerning in regards to motivation. When a team has no chance of the playoffs, the pressure is off and it sometimes benefits them. You're seeing that with the Elks.
I'm going to take Elks +3.5. I'm a tad concerned about that bye week, but 0-6 at home you know they are motivated as hell to at least get a W here.
Argonauts @ Stampeders:
Despite their recent winning run, Toronto are 5.5 point underdogs on the road in Calgary. To be fair, all four wins are against Eastern teams. Their last West game was the Stampeders and Calgary won by 3 points in Toronto.
Calgary have been a mixed bag this season. They could just as easily blow Toronto out as it could be a close game.
Nothing for this one.
Follow @BetCFL