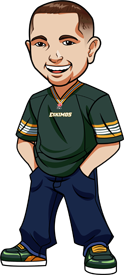 Written by Graeme on Tuesday, June 20th, 2017
Follow @BetCFL
The 2017 CFL season is upon us, and we're back with our weekly free CFL Betting Tips.
For new readers our names are Graeme and Scott. We've been providing CFL Tips on here for a few years now and hope to continue the profitably with the 2017 season.
We go over each game together(nice excuse for some beers and wings) then one of us writes the tips up each week.
I'm Graeme, the Eskimos fan and I drew the short straw to do it for Week 1 of the CFL Season.
The Calgary Stampeders are the favourites this season to both win the West as well as win the Grey Cup. The sportsbooks also seem to think that the East is going to be weak again this year with some rather weird odds.
The Redblacks for example are the highest East team favoured to win the cup, however are only third favourites to win the East.
A lot of that is to do with public betting with many betting on Ottawa to win the Grey Cup.
Where To Bet CFL:
Best America Sportsbooks for CFL

Good deposit bonus, lot of unique bets & props. Excellent mobile & live betting.

Have the best odds the majority of the time

100% to $250 Deposit Bonus, sometimes have really good lines
Alright let's cover this weeks games:
Roughriders at Alouettes:
The Roughriders go into this one as 6.5 point underdogs.
Saskatchewan might be even worse than last season and that's a rare feat. I mean my god they were going to actually start Vince Young – are you kidding me? Until Saskatchewan show me something this season I'll be tipping against them spread dependent. Alouettes -6.5.
Stampeders at Redblacks:
We see a 2016 Grey Cup rematch as the Calgary Stampeders head to Ottawa. The Stampeders, despite being the road team, are 3 point favourites.
I can only think this one is so close is due to the Grey Cup result last year. I love everything about the Stampeders and I'll be betting them a lot this season I expect. I'm all over Stampeders -3.
Eskimos at Lions:
The Lions are 3 point favourites as they host the Edmonton Eskimos on Saturday night.
I try not to be influenced by off the field antics too much but there was a lot of odd stuff that happened during the off season in Edmonton like the firing of Ed Hervey. Not sure how that will affect things on the field but it usually doesn't help.
This should be a great and offensive game with two strong offenses here. I just think the BC Lions will fell less of the pressure being on the road. They were 6-3-0 on the road last year and I'm liking Lions -3.5.
Tiger-Cats at Argonauts:
A lot is expected from Hamilton this season to fly the flag in the East, and they're 3.5 point favourites as they visit the Argonauts.
In my opinion that's too low a point spread. I love the Tiger-Cats this season. They're strong in so many areas and they've got players who showed a lot of promise last season and wll be even better this season. I'm going with Tiger-Cats -3.5 here.
Follow @BetCFL