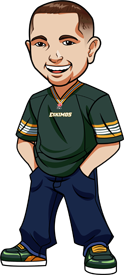 Written by Graeme on Wednesday, August 8th, 2018
Follow @BetCFL
Well last week the story of the CFL was the debut of Johnny Football and it wasn't a good one. Manziel threw a whopping 4 interceptions as the Tiger-Cats crushed the Alouettes 50-11.
Sadly I guess it's not that much of a surprise – it shows how hard football can be and how important training is etc. There was probably a lot of pressure on Manziel as well and he did seem to settle down a bit in the 3rd quarter.
It worked out perfectly for us as we tipped and bet the Over 49.5 in that game. While Manziel struggled the Tiger-Cats offense was alive as per usual and they went over that on their own.
That wasn't our only win last week as we went 2-2. We had the Roughriders +9 and they lost 26-19 to cover the spread. The Argonauts were a feisty bunch as they won 42-41 killing our Redblacks -4.5 pick. And finally we had Stampeders -11. They won but it was only by 9 points.
It's now Week 9 in the CFL and we're starting to get an idea of how the divisions will be at the end of the season. In the West, the Stampeders look to be taking it bar a disaster – like maybe their QB gets injured and they need to trade for Johnny Manziel.
The Eskimos look to be in that 2nd spot while the Lions seem to be drifting away at the bottom. In the East, Ottawa are the only team with a positive record but if the Argonauts can show the fire they did last week things could get inteeresting. And then we have the Tiger-Cats who I think will just go from strength to strength.
Eskimos vs Lions Betting Tips:
The Eskimos go into this road game as 3.5 point favourites. On the road so far this season the Eskimos have won 33-30 over the Bombers, lost 20-17 to the Argonauts and won 44-23 over the Alouettes.
The Eskimos thumped the Lions earlier in the season when Reilly stepped up big after they were down early in the game. What is incredibly impressive about the Eskimos is their defense. They're very hard to break down and this is a team that has lost guys like Hightower and Adams to injury.
I think with the strong offense and their defense performing well I gotta go with Eskimos -3.5 here. Lions just haven't really shown anything yet this season.
Tiger-Cats vs Blue Bombers:
This should be a good test for the Tiger-Cats who are 6 point underdogs. The Blue Bombers are one of those teams who look dangerous all over the place and they have an incredible 34+ points per game average.
I don't think Hamilton stops them defensively but I like the Tiger-Cats offense to roll here as their offense is very productive.
I've got to go with Over 58 Points as I think this one has a real chance of being a barn burner of a game.
Alouettes vs Redblacks Betting Tips:
It was a disappointment last week seeing Ottawa fall to the Argonauts. How do you blow a 24 point lead like that? Ottawa will be feeling the pressure but will look to get going against Montreal.
I think Manziel has put his bad week behind him and can at least get something going. I'm going to go with Over 50 Points. I mean hell if Johnny Football throws picks again then the Redblacks can go over on their own. Gotta expect a bigger showing from them this week. They'll be out for blood.