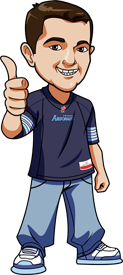 Written by Scott on Friday, November 18th, 2016
Follow @BetCFL
Last week was the semifinals and as expected  there was some fantastic football.
The first game was the Eskimos vs the Tiger-Cats.  Edmonton won 24-21 and are now 1 step closer to being the first crossover team to make it to the Grey Cup.  This game was tied late in the 4th until Sean Whyte kicked a field goal with 7 seconds left to give the Eskimos the lead and win.  Reilly was banged up in this game and had his left arm in a brace while on the sidelines.  This is going to hurt the Eskimos chances in the Divsion championship if he is out.
The other game of the weekend was the Blue Bombers vs the Lions.  The Lions were down late in the game but a TD with just over a minute remaining gave the Lions the 32-31 lead and they held on for the win. 
We are on to the championships now and I'm sure its going to yet another other awesome week as teams battle to reach the Grey Cup.
Best America Sportsbooks for CFL

Good deposit bonus, lot of unique bets & props. Excellent mobile & live betting.

Have the best odds the majority of the time

100% to $250 Deposit Bonus, sometimes have really good lines
Eskimos vs Redblacks Betting Tips
The Eskimos have  a chance to be the first crossover team to make the Grey Cup. 
Reilly was hurt during the 4th quarter last game but says he will be playing in this one.
The Redblacks had a decent year and came out as the winners of the East with a 8-9-1 record.
But the West is the far superior Division and I have a hard time betting against them .
I like the Eskies chances to be the first crossover team in the Grey Cup and am only taking them to win with no spread for 1.77 odds
Eskimos win
Lions vs Stampeders Betting Tips
Well there really is only one way I see this game going. 
The Stamps were just unreal this season.  They won 14 in a row and were unbeaten in 16 games.  They rested their starters for the last week of the season and that resulted in a loss but still this team seems destined to make the Grey Cup.
The Lions won a nail biter last week against the Bombers but Calgary is a much better team than Winnipeg.  The Stamps lost 2 games this season and the first was to the Lions but that was back during the first week of the season .
There is no other way I see this game going
Stampeders-7.5
Follow @BetCFL