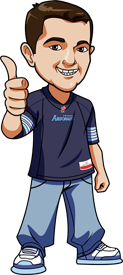 Written by Scott on Wednesday, July 15th, 2015
Follow @BetCFL
A much better week this week with the CFL tips. We ended up going 3-1.
We had the Eskimos -5.5 against the Redblacks and we won this one with ease when Edmonton won 46-17. I knew it was only a matter of time until Ottawa came back to earth after their great start. Big game from Eskies receiver Adarius Bowman who made 5 catches for 120 yards and a touchdown.
We lost our tip when we had the Allouettes to beat the Blue Bombers, the Bombers won 25-23. Their D was great. They recovered a fumble for a score and same for an interception. They also nailed 4 FGs. That was all of their scoring. Impressive.
We had the Riders +3.5 against the Lions. They lost 35-32 in OT but thanks to the .5 on the spread we won this tip. Crazy game. Big game from the Lions QB Travis Lulay who went 34-44 for 404 yards and 3 TDs.
Finally we had the Argos +6 against the Stampeders. The Stamps won 25-20 so we won this too. Big 2nd quarter for the Stamps who put up 22 points and added a FG in the 4th.
Here's what the week 4 schedule looks like:
Thursday, July 16th Tiger-Cats vs Alouettes @ 7:30pm
Friday, July 17th Eskimos vs Redblacks @ 7:00pm, Lions vs Roughriders @ 10:00pm
Saturday, July 18th Blue Bombers vs Stampeders @ 7:00pm
Tiger-Cats vs Alouettes Betting Tips
The Ticats had a bye last week so they have had time to prepare for this game against the Alouettes who played less than a week ago in Winnipeg. This should be a good game but I think it's Hamilton that comes away with the win. They have looked good in their first two games. The lost by a point in a rematch of last years final in week 1 thanks to a Calgary FG as time expired and blew out the Bombers 52-26 in week 2.
Tiger-Cats -3 for 1.95
Eskimos vs Redblacks Betting Tips
In last weeks game, the Eskimos handled the Redblacks with ease. For this game they go to Ottawa.
After losing to the Argos in week one then having a bye week, the Eskimos came back with a convincing win over the Redblacks. I expect them to come out on top in this one also.
Eskimos -3.5 for 1.91 at Bovada
Lions vs Roughriders Betting Tips
Another rematch from last week. The Lions picked up their first win of the season but the Riders are still looking for theirs. They really need to win this game or a loss means they are 0-4. We are almost at the quarter point of the season and you can't expect to make the playoffs with a start like this.
I think the Riders are a better team than their record would suggest. They are at home and need to snap this losing skid.
Riders -3.5 for 1.87 odds
Blue Bombers vs Stampeders Betting Tips
The defending champs have had an up and down start to their season. Barely winning in week 1, losing in week 2 and hanging on for the week 3 win. The Stamps will look to get their first winning streak of the season in this one.
I think that Calgary wins this game but the -9 spread is a bit scary and the moneyline bet has no value at all coming in around 1.20. They won game 1 by a point, lost game 2 and won game 3 by 5 points. They're a strong team but haven't blown anybody away yet.
Bombers +9 for 1.91 at Bovada
Follow @BetCFL