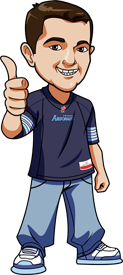 Written by Scott on Thursday, November 3rd, 2016
Well here it is.   The final week of the season.
The Eskimos beat the Tiger-Cats 29-26 in what might be a preview of a first round matchup.  But there is still things that need to happen for that to take place. 
The Redblacks beat the Blue Bombers 23-10 and clinched the East.  Brad Sinopoli had 73 receiving yards putting him over 1000 yards on the year which is the 4th Ottawa receiver this season.
The Lions pounded the Roughriders 24-6 in the final game to be played at Mosaic Stadium.
The last game of the week saw the Alouettes beat the Stampeders 17-8.  Montreal snapped Calgary's 16 game unbeaten streak and 14 game win streak and denied them the best record ever over a 18 game season.
Alright week 20. This is going to be a great finish to the season.
Best America Sportsbooks for CFL
Blue Bombers vs Redblacks  Betting Tips
The Bombers have a chance to host a playoff game but for that to happen they need to win this game.
The Redblacks have clinched the East so they'll be resting some of their starters for this game.
With so much on the line for the Bombers and Ottawa resting some starters,  I like Winnipeg to win this game.
Blue Bombers win
Alouettes vs Tiger-Cats Betting Tips
The Alouettes are out of the playoffs and the Ticats have clinched 2nd.
With really nothing left for either team to gain or lose, this is a tough game to call.  But with Montreal on a 2 game win streak I am going to go with them
Alouettes +4
Best America Sportsbooks for CFL
Argonauts vs Eskimos Betting Tips
The Argos are in last place in the East and tied for the last in the league.  The Eskimos will be waiting to see the outcome of the Bombers game to see where they go from here.
But with the way the Eskies have been playing recently I like their chances.  They're 4-1 over their last 5 games while the the Argos have lost 6 in a row
Check back Friday or Saturday for point spread
Roughriders vs Lions Betting Tips
Last week the Lions beat the Riders 24-6.  The Lions, with a win in this game, can clinch 2nd in the West.
The Riders have lost 2 in a row and are guaranteed to finish in last place in the West. 
If last week was any indication on how this game will go, then I like the Lions to win again but this time in B.C
Check back Friday or Saturday for point spread
Bovada for Americans and Sports Interaction for everyone else
[social]