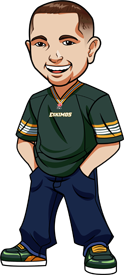 Written by Graeme on Sunday, November 6th, 2022
Follow @BetCFL
Hi everyone,
Today we have the CFL Division Semi Finals.
We will see the Tiger-Cats @ the Alouettes in the early game, and then the Stampeders @ the Lions later on.
Let's hop right in:
Tiger Cats @ Alouettes Betting Tips:
The Alouettes come in as 2 point favourites here. They are at home where they went 4-5 for the season. Hamilton went 2-7 on the road.
The teams played thrice in the regular season. Alouettes won both home encounters.
Montreal are just a better team, albeit slightly. The Ti-Cats however did end the season strong and come in doing good. Matthew Shiltz looked alright.
Alouettes have been an inconsistent team. I wonder if we will see Cole Spieker feature here. Personally I'd roll with him while he is hot.
Either way I'm going to go with the team who I feel is better here which is the Alouettes -2, even if I am a bit concerned about the Tiger-Cats coming in with confidence.
Stampders @ Lions Betting Tips:
Stampeders are 1.5 point dogs on the road.
the Lions had a 6-3 home record but Calgary were a beast on the road, going 7-2.
In the regular season, the Lions won two close games against Calgary on the road, while the Stampeders thumped them 25-11 on the road in the last game they played.
The Lions defense though has been stuttering it seems. And I think they will collapse against Calgary. The Calgary offense is excellent and I am going with Stampeders +1.5 here.
Follow @BetCFL