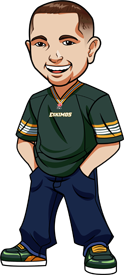 Written by Graeme on Thursday, August 22nd, 2019
Follow @BetCFL
Welcome to Week 11 in the CFL 2019 season.
We're past the halfway point now with things quite tight in the West, and not so tight in the East.
In the West, the Blue Bombers look to be running away with it with a 7-2-0 record. However the Eskimos, Roughriders and Stampeders are still all in with a chance for sure of taking the West Division title.
In the East, the Hamilton Tiger-Cats are looking good with a 7-2-0 record as well. Alouettes are next at 4-4 which shows the gap there. Argonauts much like the Lions look out of it already and are playing for pride.
We followed up our 4-0 week with a 3-1 week which was nice.
We took the Blue Bombers -12. The Blue Bombers thumped them 32-16 to cover the point spread with a huge 3rd quarter.
We lost with Argonauts +9. They were competitive against the Eskimos but it wasn't enough and Edmonton ran out 41-26 winners and kept going the entire game.
Tiger-Cats -3.5 was a nice and easy win as they beat the Ottawa Redblacks 21-7. It was another game where they needed a big second half performance and they got it to get the win.
Finally we won with Alouettes +7. It was a tight one that went to OT and the Stampeders won by 6.
Let's get to Week 11:
Eskimos vs Blue Bombers Betting Tips
Despite the standings, the Eskimos go into this one as 6.5 point favourites. This is due to Matt Nichols being missing and it is a huge game for the Eskimos.
Eskimos also are perfect at home so far this season.
It'll be interesting to see what a difference Chris Streveler makes to the team.
Nichols has been huge for the Blue Bombers and I think they will miss him dearly. Trevor Harris has been excellent and I can't see Streveler keeping up with him. Will be interesting through as Streveler isn't too shabby.
Lions vs Tiger-Cats Betting Tips
The Easts best team come to town as 4 point favourites.
The Lions lost to Hamilton last time out despite playing an excellent game.
This is one where I flip flop strongly on and I can't see a bet here. I can argue that the Tiger-Cats are the better team and know what to expect after that last game. However the Lions will give maximum effort.
Roughriders vs Redblacks Betting Tips
Ottawa are 10.5 point underdogs in this one.
The Riders have been the team to watch lately. They're starting to really click and look like they are going to go marching up the West. Especially with the Bombers losing Nichols.
These two teams played earlier in the season and the Redblacks won 44-41 there.
Ottawa are such a concerning team at the moment and Riders are hot with Cody Fajardo stepping up huge. In saying that I think Ottawa do enough to keep up with them.
Argonauts vs Alouettes Betting Tips
Alouettes are 6 point favourites here.
Really just can't see betting against the Alouettes at this point ya know? They're doing well. Vernon Adams is killing it. I'm fine with backing him.
Follow @BetCFL