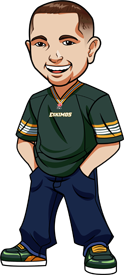 Written by Graeme on Wednesday, June 27th, 2018
Follow @BetCFL
It was an unfortunate 1-3 last week with the CFL Tips.
After a great result in Week 1 of the CFL for the Saskatchewan Roughriders, we expected more from them against the Ottawa Redblacks. The sportsbooks did too with just a 2.5 point spread. Unfortunately The Redblacks thumped them. Ottawa had a huge 25 point first half and Saskatchewan just couldn't get going.
We won with the Blue Bombers -2 over the Alouettes. The Montreal offense continues to be extremely weak and it was nice to count on that.
We thought the Eskimos would come in with momentum and to be fair Reilly did put up 2 TDs but the Tiger-Cats had an excellent 38-21 win. Masoli stepped up big in that one.
Finally we had Stampeders/Argonauts to go over 52 points but it was 41-7 and just went under. Extremely disappointing performance from Toronto in that one as their offense just couldn't get going and Ray threw for just 74 yards. Brutal offensive performance.
We move onto Week 3 in the CFL. The Alouettes are still seeking their first win as they go up against the Roughriders. The Stampeders and Redblacks will look to maintain their unbeaten streaks.
Stampeders vs Redblacks Betting Tips:
Despite their big win last week over Saskatchewan and a dynamic offensive performance, the Ottawa Redblacks go into this one as 8 point underdogs.
The Stampeders look excellent and having Don Jackson at RB is huge. That's a great option for them with him currently averaging 10 YPC.
I'd think this would be a very offensive game. Stampeders have the offense everywhere and so do Ottawa. Harris is one of the better QBs in the league, Powell is tremendous and of course they have great WRs like Ellingson and Spencer.
With two strong offenses I'm good to bet Over 57.5 Points and hope it's a very offensive and open game.
Blue Bombers vs Tiger Cats Betting Tips:
The Blue Bombers lost a tight one to Edmonton then beat the Alouettes. Hamilton lost to the Stampeders then were able to beat the Eskimos.
It's an interesting game and Masoli is really looking to make that spot his own. However so are the Blue Bombers and Streveler had a breakout game against Montreal which was huge.
However I wonder if Winnipeg will be too confident after that one. I do think they're decent but I like what the Tiger-Cats are doing at the moment and feel they're bonding well as a team. Tiger-Cats -4 is the play. Beating the Eskimos is a hell of an accomplishment.
Lions vs Eskimos Betting Tips:
The Lions played Week 1 then had last week off. They beat the Montreal Alouettes 22-10. The Eskimos beat Winnipeg in Week 1 then lost to Hamilton in Week 2.
Their defense struggled with Hamilton but I don't think the Lions have the offensive fire power needed.
This is a big test for the Lions but I don't think they were too good against the Alouettes and I'm going to back Eskimos -6.5 as I still rate them highly.
Alouettes vs Roughriders Betting Tips:
10 points is a big point spread. I wouldn't have any question about betting Saskatchewan here however with Collaros out that's huge.
I'd like to still bet against the Alouettes though. Air Canada is solid enough and I think he'll do the business for Sask. I liked how he faired last year in his lone start however this is one where I'd advise only half what you usually bet.
Roughriders -10
Follow @BetCFL