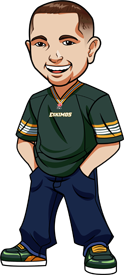 Written by Graeme on Thursday, August 31st, 2017
Follow @BetCFL
It's Week 11 in the CFL and we're coming off another winning week.
We had just the 3 tips and we went 2-1 with them.
We had the Blue Bombers to beat the Alouettes. It was close but Winnipeg got the W in overtime over Montreal.
We took the Roughriders +6.5 and even though we were on the right side, we were both extremely surprised at that performance from Saskatchewan. That was crazy.
We lost with the Lions +2. Ottawa seem to be getting things going.
Now we turn our attention to Week 11. It kicks off in the East tonight with a big game as the Redblacks take on the Alouettes in a PK. Both are chasing Toronto who visit Hamilton on Monday night looking to pile the misery on the Tiger-Cats.
In the West, the battle of Alberta as the Stampeders host the Eskimos. Edmonton have lost two on the trot and there's a big point spread there.
Speaking of Hamilton – Briles???? Really???? C'mon.
Apparently Johnny Football worked out with them recently. It'd be interesting to see him in the CFL. They said too many red flags for him right now – I assume its performance wise but hell you're 0-8 give the fans something to be interested in.
Let's get to it:
Alouettes vs Redblacks Betting Tips:
I just can't pick a team here. Both are matched evenly. I think I'd go with Ottawa but I can't tip it.
Roughriders vs Blue Bombers Betting Tips:
I'm going to go with the Roughriders -2.5 here. I wasn't impressed with the way the Blue Bombers faced off against Montreal. They struggled in that one. Meanwhile Saskatchewan are firing on all cylinders with that huge win over Edmonton and the thrashing of the Lions.
Stampeders vs Eskimos Betting Tips:
The point spread is 11 for this one which I get to a degree – however I'm going to take Eskimos +11. Yeah they're ravaged by injuries and lost their last two as the Stampeders are starting to click – not good for us Edmonton fans. I just don't think we can count out Edmontons performances for the first 7 games of the season.
Tiger-Cats vs Argonauts Betting Tips:
I just don't see how we can't bet the Toronto Argonauts here. If Hamilton win then full credit to them. I was all over Toronto when they opened up at -2.5 however and I'd still back them at -4.5.
They only have 3 wins this season however 2 were very convincing wins and one was a tight road victory over Ottawa. The Tiger-Cats haven't covered a 2.5 point spread yet this season and only once would they cover 4.5.
The only good thing you can say about Hamilton is they are fast starters compared to later in the half however the Argos are solid enough at shutting teams down early.
Argos all the way.
Follow @BetCFL