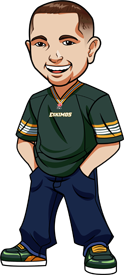 Written by Graeme on Tuesday, September 13th, 2016
Follow @BetCFL
It was a 1-2 last week with all tips being extremely close.
We started out with a loss with the Alouettes +9.5. We knew the B.C. Lions would win that one but were banking on the Alouettes keeping it close. Unfortunately the B.C. Lions started off strong and the Alouettes couldn't fully recover from that. A massive first half performance from the Lions.
We then had a push in the Blue Bombers game as Saskatchewan kept it close. We had Winnipeg -7 but they win by eactly 7 unfortunately.
We made it 1-1 with the Stampeders -2.5. They needed overtime to beat the Eskimos and what a nail biter that was. Thankfully Calgary won that one in overtime 34-28 to get us the victory thanks to a solid performance from Bo Mitchell.
Unfortunately the Argonauts and Tiger-Cats gave us a brutal loss. 53 points going into the 4th quarter, our Over 56 looked good. And then they scored exactly 1 point.
Great freaking stuff.
It's Week 13 of the CFL as we're starting to really see who is who and where the teams fully rank. Going to be a good second half of the season that's for sure.
Let's get to this weeks tips:
Alouettes at Tiger Cats Betting Tips:
The Alouettes go into this as big 9.5 point underdogs. Despite their hard bttle against the Lions and some fairly decent road form at 2-3-0.
These two last placed on July 15th with the Alouettes losing 31-7 at home.
This is a real tricky one and it's one I'd recommend only betting half what you usually bet. I'm going to take Tiger-Cats -9.5. It was a poor performance against Toronto last week and I feel they've got ground to make up – now tied with the Argos on points and this will be a great time to take a stand against their divisional opponents. The Alouettes seem to be a bit of a mess too with everyone hating each other.
Bet the CFL at Bovada
Argonauts at Blue Bombers Betting Tips:
Toronto go in as 6.5 point underdogs against the Blue Bombers. Toronto are 3rd in the East but tied with Hamilton points. The Blue Bombers are 7-4-0 with the best performances being on the road at 5-1-0 there.
Toronto are going up against one of the best defenses in the league here. Blue Bombers kept them to 17 points in the first game and I like their defense to keep them contained again. I'm taking Blue Bombers -6.5.
Bet the CFL at Bovada
Redblacks at Stampeders Betting Tips:
This is an interesting one for me. The Stampders are 9 point favourites. I just wonder if they blew their load so to speak after the two games against the Eskimos.
The Redblacks are top of the East and although the Stampeders look certs to take home the Grey Cup – the Redblacks are still a solid opponent.
These two teams tied back in July and I like Ottawa to keep this one close.
Ottawa +9.
Eskimos at Roughriders Betting Tips:
Eskimos are -4.5 here and yeah – have to take them every time. Saskatchewan have still struggled a ton. We see them covering point spreads more but I think the Eskimos make ground on the Lions here and get a big win.
Bet the CFL at Bovada
Follow @BetCFL