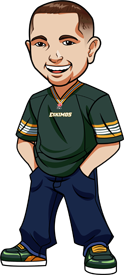 Written by Graeme on Tuesday, July 24th, 2018
Follow @BetCFL
It was a solid 2-1 winning week last week with the CFL Tips.
Our loss was with the Redblacks who did win the game but couldn't quite cover. We backed them to get back on track and they did however they only won 29-25 and we needed them to cover by at least a touchdown.
Thankfully we had better luck in the other two games.
We had the Roughriders +10.5 and that game went the other way as Saskatchewan actually thumped the Ticats 31-20 which was a surprise. A big game for the Riders.
We also had the Blue Bombers -1.5 expecting a better effort and that's what happened as they beat the Argonauts 38-20.
We didn't tip the Stampeders/Alouettes game.
With every team having played 5 games of the season(except Winnipeg on 6), other than the Stampeders in the West it's fairly tight with all the other 4 teams. In the East Ottawa are the only one with a winning record and Toronto and Montreal have been very poor.
The Montreal Alouettes look to Johnny Manziel to turn things around and that should be interesting. Man I'd love for him to instantly turn things around for them and lead them to the Grey Cup. Of course knowing his history Montreal probably isn't the best place for him. Me and Scott have had a few wild nights up there that's for damn sure.
Let's get to the tips for this week:
Argonauts vs Blue Bombers Betting Tips:
This line feels fairly accurate with the Blue Bombers -11. That's a pretty tight line. These two usually have high scoring games with their last one of course being 58 points. That was the first Argos game to go over this season and I don't think we'll see similar here. I like a more toned down game offensively and I'm going with Under 53 Points in this game.
Redblacks vs Tiger-Cats Betting Tips:
The Redblacks go into this one as 4 point underdogs and I like them to get the win.
The Ticats offense will probably get back in business here but I think Ottawa can match them. Ottawa have a decent enough defense and when you look at the offensive stats both teams are fairly close.
I'm going with Redblacks +4 as despite the strong Hamilton offense I still think Ottawa might be the better team and can take advantage of some defensive issues.
Stampeders vs Roughriders Betting Tips:
First of all good on Saskatchewan for their win last week that was impressive to see. However how can a team go from such a big dog to only a touchdown underdog against the Calgary freaking Stampeders in a week?
Calgary have won by more than a touchdown against every team they have played this season home or away. Of course the Stampeders have been beating up on the East but they just look incredible. Their defense is better than ever and they come out every game strong.
It's definitely a step up in competition but I'm going with Stampeders -6.5. Have to go with Calgary they are legit. It's a big test for them for sure and the best defense they have played this year but I don't know if Sask can stop them.
Follow @BetCFL