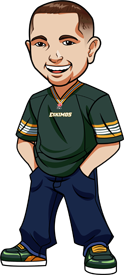 Written by Graeme on Thursday, October 12th, 2017
Follow @BetCFL
Sorry about the delay in tips this week – the sportsbooks took absolutely forever to get the lines up which was frustrating.
We're now at Week 17 of the CFL season. Still 4 weeks to go.
Only one team is 100% in the playoffs which is the Calgary Stampeders. They had a bye week last week but take on the Hamilton Tiger-Cats this week.
The WInnipeg Blue Bombers are looking good for second spot in the West. They've got two wins over Saskatchewan and Edmonton.
However due to the crossover rule, it looks like we'll be seeing 4 teams from the West and 2 teams from the East in the playoffs. So that makes things interesting for the BC Lions who could still catch the Roughriders and Eskimos over the remaining few weeks.
In the East, The Argonauts are probably going through. The Tiger-Cats are in a very interesting position though of having played 2 games less than the Redblacks so theoretically they could tie it all up.
It's really going to be an interesting end to the season. It COULD be a nail biter last few weeks – let's hope so – but I'm not too confident.
Let's get to the CFL Betting Tips:
Stampeders at Tiger-Cats Betting Tips:
The Calgary Stampeders go into this as big point favourites.
Maybe it's wishful thinking but with Hamilton really needing a win to stay in the playoff hunt, I'd like to back them despite the fact that they have a 1-6 home record.
I mean I'm not saying they'll win but I'd at least like them to keep it close enough. Closer than that 60-1 game last time! Stampeders on average win by more than 20.5 points
Man – surely Hamilton can get their shit together for this game right? At least keep it close?
Bah. I'm not fully confident but I've got to hope they do. Tiger-Cats +10
Redblacks at Roughriders Betting Tips:
The Redblacks are +3 underdogs in this one against Saskatchewan. Ottawa are coming off that big win over the Lions while the Roughriders beat Toronto. These two teams faced off in Week 15 and Saskatchewan got the 18-17 win in Ottawa.
Honestly I love the performances of Saskatchewan lately. Their ability to comeback has been huge and they've got to be confident here. Ottawa had that huge win over BC but I just think one west coast win in a month is enough for them.
I'm taking Roughriders -3.
Argonauts at Eskimos Betting Tips:
The Argonauts are 7 point underdogs. The Edmonton Eskimos will hope to keep their nice run going.
You have to wonder if the Eskimos will gain a lot of confidence from that win. It's a very night one but I do think I have to back their confidence.
I'm going to take Eskimos -7 here. Argonauts are practically guaranteed a playoff spot and I think Eskimos have that new found confidence which will help them.
Lions at Blue Bombers Betting Tips:
No odds out yet I'll try and update when they are.
Follow @BetCFL