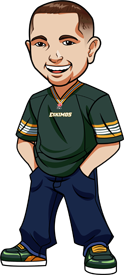 Written by Graeme on Thursday, July 4th, 2019
Follow @BetCFL
Week 4 of the CFL kicks off this week with the Hamilton Tiger-Cats in Montreal tonight.
Tomorrow there is the Winnipeg Blue Bombers heading to Ottawa, then Saturday we have a double header with the Lions at Toronto and the Stampeders at Saskatchewan.
After just three weeks we amazingly only have three undefeated teams.
In the East, the Tiger-Cats are running strong with 3 wins out of 3 and the Redblacks are on 2 out of 2.
The Tiger-Cats, who had just blown out the Argonauts the week before, blew the Alouettes away 41-10 to go top of the East. We predicted that one correctly as the point spread was -14 for that one.
The other game featuring an East team was the Argonauts who lost to the Roughriders 32-7. We got that one wrong unfortunately as we thought the Argonauts would put in a better performance. We had Argos +13.5 but it didn't come in.
The Blue Bombers are the only undefeated team in the West with 2 wins out of 2. It was a hard fought victory over the Edmonton Eskimos last week 28-21.
The other game last week was the Stampeders beating the BC LIons. That was a close one but the Stampeders came out 36-32 winners.
Let's focus on this week now and see what we've got:
Tiger-Cats at Alouettes Betting Tips:
The sportsbooks expect another victory for the Tiger-Cats here, as they are 12.5 point favourites going into this one with the over/under set at 56.5.
It doesn't surprise me. We knew Hamilton was going to be a big offense this year and they are absolutely on fire at the moment. They are full of confidence and this 3-0 start is the first time that has happened in 15 years.
I just see it being a repeat of last week. Masoli is killing it and him and Banks look bloody solid together.
I have to mention the Ti-Cats defence as well. They have been very very good too and Lawrence and Davis are looking amazing out there.
Alouettes still haven't even figured out their QB situaiton yet.
Blue Bombers at Redblacks Betting Tips:
One unbeaten streak has to end as the Redblacks host the Blue Bombers. Redblacks are 4 point favourites here.
What a performance from Lucky Whitehead last week – my god. He just looked incredible out there. Always exciting when you see someone like that pop up.
Interestingly the betting money is going on the Redblacks as the line opened at -3.5.
Redblacks may have lost their momentum a but with the bye week. Their defense hasn't looked good and I think if this is a shootout, the Bombers win. I think we see a big performance from Whitehead or at worst the Redblacks overreact to him and that opens up other avenues.
Redblacks are a solid team but I think the Blue Bombers win by 7-10 points.
Lions at Argonauts Betting Tips:
The Argonauts are 7.5 point underdogs here.
The Argos have been dismal and the media in Toronto is already all about treating this as a must win type of game. Thing is – I am not sure if they can do that.
I think the Lions win but their defence will see the Argonauts at least put up a fight and they can get over 20 points in this game.
Stampeders at Roughriders Betting Tips:
Both teams coming off 30+ point wins. Saskatchewan are -4 favourites for this game with the over/under set at 50.5.
I don't think there is confrmation yet on who will start for the Stampeders after Bo picked up that injury.
Meanwhile Cody Fajardo comes in hot and confident. Granted it was the Argos but still he looked good and was connecting well with Kyran Moore.
It's an intriguing game. Both teams have lost to the Ottawa Redblacks in close games.
I'm going to go with Over 50.5 as I think it can be a good high scoring game.
Follow @BetCFL