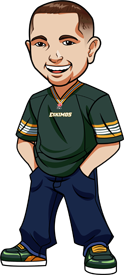 Written by Graeme on Tuesday, July 18th, 2017
Follow @BetCFL
It was another great week of CFL action, and another winning week thanks to Scott as we went 3-1 with the tips last week.
Our only loss was trusting the unbeaten Stampeders. They were given a surprise loss on the road in Montreal. We had them to win that one by 6 so that was quite the shocking result.
Thankfully we won with the three others.
We had the Winnipeg Blue Bombers -3 and they beat the Toronto Argonauts by 33-25. A solid win for the Bombs as the Argos bad run against Winnipeg continues.
On Friday we also had Redblacks +6. We knew they'd keep it close here against the injury plagued Eskimos and they did just that. They lost 23-21 and that made for another win for us.
Finally on Saturday we could take it easy with our Lions -3 bet as they easily covered over the Tiger-Cats.
So a great winning week for us.
Let's have another one. One of those rare 5 game weeks. Remember you can place your bets at Bovada.
Alouettes vs Redblacks Betting Tips:
The Alouettes go into this one as 4.5 point underdogs. The Redblacks were unlucky that the Eskimo stifled them last week. They're going to be going into a big week with the Alouettes up followed by the Argonauts.
Honestly I've got to go with Alouettes +4.5 right now. I mean I still think Ottawa are the better team however Montreal have a great defence and we're now seeing their offence start to click. Durant and Jackson have got that chemistry going and you get the feeling they're just going to get better.
Eskimos vs Tiger-Cats Betting Tips:
They're undefeated but the Eskimos are just -3 against the Tiger-Cats. The Tiger-Cats are 0-3 this season.
This is one that feels like a trap line – it really does. However the Eskimos keep on rolling and the Tiger-Cats look poor. I just don't see how Hamilton can win this one. They've just looked so bad this season so far. They do have a few bright spots – loved Saunders performance last week for example – and I think later in the season they'll rack up the wins but I've got to go with the hot teams here. Home field didn't work out for Hamilton.
Blue Bombers vs Lions Betting Tips:
4th in the West, the Winnipeg Blue Bombers are +5 against the B.C. Lions who are 2nd. The Lions are yet to record a home win but have 3 road wins.
I'm going to back the Lions -5 here. I just feel overall they are the most consistent team. For Winnipeg to get a win it feels like they have to rely on individual performances. I'm a bit nervous about Lulay starting but I liked what I saw against Hamilton and you have to think he's going to keep that momentum going.
Roughriders vs Stampeders Betting Tips:
Saskatchewan are +10 point underdogs against Calgary.
Sask are coming off the bye week so will be nice and rested. They went into that on a win which will help too. They stayed strong against the Alouettes and Blue Bombers matching them points wise. Calgary are yet to really impress this year. I like Saskatchewan +10.
Redblacks vs Argonauts Betting Tips:
I'll be back on the weekend with tips for this one. Line is currently Redblacks +4.5 but I want to wait and see how they perform.
Bet all these at Bovada.
Follow @BetCFL