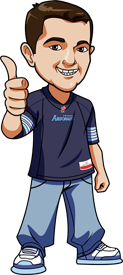 Written by Scott on Tuesday, August 18th, 2015
A decent week last week as we went 3-1. 
We went with the Eskimos to beat the Alouettes and they did winning 15-12.  Montreal started the game strong putting up 9 points in the 1st quarter and led 12-7 at the half. But the Eskies kept chipping away at the Als lead and held them scoreless for the 2nd half. 
Took the Argos against the Blue Bombers and thanks to a strong 13 point 4th quarter, Toronto came away with the 27-20 win.
Next we had the Tiger-Cats -8.5 against the Lions and the Ticats hot streak continued.  They won this game 52-22 pushing their win streak to 4.  They were beasts in this game.  They scored 21 points in the 1st and they added another 20 in the 3rd. Ticats QB Zach Collaros was amazing. He went 19-23 for  290 yards and 4 TDS.
Last we had the Redblacks +8 against the Stampeders. Well for us to win this bet we would have needed the Redblacks +46 when the Stamps destroyed them 48-3.  This game wasn't even close.  Ottawa hit a field goal in the 1st and that was their day for scoring. 
Alright.  We are onto week 9.  And heres the schedule.
Thursday, August 20th Alouettes vs Lions @ 10:00pm
Friday, August 21st Tiger-Cats vs Eskimos @ 9:00pm
Saturday, August 22nd Stampeders vs Roughriders @ 7:00pm
Sunday, August 23rd Redblacks vs Argonauts @ 4:00pm
Alouettes vs Lions Betting Tips
Both of these teams need this win.  Montreal is on a 3 game losing streak and have fallen behind in the East standings.  They're 2-5 for 4 points 6 points behind the division leaders Hamilton and Toronto.  B.C is in 3rd in the West, ahead of only the still winless Riders.  Like I said previously, it's tough to evaluate the Lions record when 2 of their 3 wins came against the Riders.
Alouettes +3 for 1.91
Tiger-Cats vs Eskimos Betting Tips
This is going to be a great game. Both teams are 5-2 and are both tied for the respective divison leads.  Hamilton is on fire having won their last 4 games.  Edmonton is 1-1 in August but went 4-0 in July.  Collaros has been amazing during the Cats win streak and I think he's going to be the difference in this game .
Tiger-Cats -2.5 for 1.91
Stampeders vs Roughriders Betting Tips
This should be an interesting game.  On one hand you have the Stamps who have been great so far this year,  the other the Riders who are 0-7 but had a bye last week.  Curious to see how they respond to the week off.  I expect a good effort from them but I don't see them coming away with the win.
Stampeders -6 for 1.91
Redblacks vs Argonauts Betting Tips
The Redblacks got pounded last week so you can expect a much better effort from them in this game.  The Argos got the win last week but it wasn't until halfway through the 4th until they sealed it. 
I like the Argos in this game but the 8.5 spread scares me. And after last week's game, you know the Redblacks will be ready.
 
Redblacks +8.5 for 1.91
Place any and all bets at Bovada for Americans and Sports Interaction for everyone else
[social]