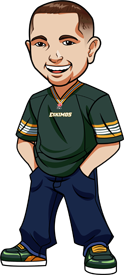 Written by Graeme on Thursday, May 26th, 2022
Follow @BetCFL
COVID, and its effects on the sporting world, were quite interesting.
Obviously, we saw the majority of sports postponed for a large period of time. It made things quite rough as a sports fan.
I took that time to explore other sportsbooks. I personally only used about 5 different sportsbook accounts for the majority of my bets. Some of those sportsbooks essentially shut down with all the sports on hold.
Others took advantage of the situation and ran various unique prop bets, or video game simulations. So I took this time to broaden my horizons, check out a variety of different sportsbooks, and see what else was out there.
One real gem that stood out – pun not intended – was the online sportsbook GemBet.
I fell in love with their interface right away. They just have a very nice and simple interface to use. I'll be honest while I try my best to always shop around and bet at the best odds, sometimes I get lazy and go with the easiest sportsbook to bet at.
GemBet is one such online sportsbook.
They have a phenomenal interface which is really fast and so easy to use. Speed is important with an online sportsbook, especially when it comes to live betting.
The process of placing bets is so simple as well and everything is practically instant. There are still online sportsbooks out there where every click requires a new page to load and that can be so frustrating. The way GemBet is, you would think it was a one page website.
Their live sports interface is excellent and there are so many betting options for live betting. A random soccer game will have over 100 live betting options as an example. It's also very easy to navigate which is a big factor for me. I've missed out on live bets at other sportsbooks at times simply because of how difficult it has been to find the bet I want to make.
I, unfortunately, haven't had the chance to bet CFL there yet but I am looking forward to it and will update this when I see what they are offering. If it is anything close to the NFL it will be exceptional.
As of this writing they currently just offer CFL outrights on who will win the Grey Cup, with very good odds. Some of them are better than all other online sportsbooks which are key if you are looking to back an outsider.
Of course, most of you probably won't just bet on the CFL. You're looking to bet on other offerings as well.
Most of you probably bet on the NHL and the selections available are fantastic. Each NHL game has over 150 bets to make and I've found the odds very comparable to other online sportsbooks.
They offer up a lot of player props such as goalscorer props and then some bets that you can't actually see at a lot of other sportsbooks such as which team will have the most 2 minute penalties. They really excel in period betting as well.
Once the CFL season comes along, I'll update this with more information on what GemBet has to offer. But if you are looking for a new sportsbook to check out, be sure to give GemBet a go.
Follow @BetCFL