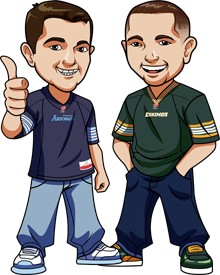 Written by Graeme & Scott on Friday, June 21st, 2013
Looking for the CFL Schedule for the 2013 season? Then look no further – here we have a full CFL Schedule for the 2013 season, covering all of the regular season.
We've also made this a nice no frills schedule – so it is easy to print off. So if you're looking for a printable CFL Schedule then this is the one for you.
Currently, our schedule is only available in EST format. Sorry about that. We hope to offer the schedule in various other timezones very soon. In the meantime, we're going to have to force you to do some math.
CFL 2013 Week 1 Schedule:
June 27th Montreal Alouettes at Winnipeg Blue Bombers 9:00 PM EST
June 28th Hamilton Tiger-Cats at Toronto Argonauts 7:00 PM EST
June 28th BC Lions at Calgary Stampeders 10:00 PM EST
June 29th Saskatchewan Roughriders at Edmonton Eskimos 3:30 PM EST
CFL 2013 Week 2 Schedule:
July 4th Winnipeg Blue Bombers at Montreal Alouettes 7:00 PM EST
July 4th Toronto Argonauts at BC Lions 10:00 PM EST
July 5th Calgary Stampeders at Saskatchewan Roughriders 9:00 PM EST
July 7th Edmonton Eskimos at Hamilton Tiger-Cats 5:00 PM EST
CFL 2013 Week 3 Schedule:
July 11th Saskatchewan Roughriders at Toronto Argonauts 7:30 PM EST
July 12th Calgary Stampeders at Montreal Alouettes 7:30 PM EST
July 13th Winnipeg Blue Bombers at Hamilton Tiger-Cats 6:30 PM EST
July 13th BC Lions at Edmonton Eskimos 9:30 PM EST
CFL 2013 Week 4 Schedule:
July 19th Toronto Argonauts at Winnipeg Blue Bombers 8:00 PM EST
July 20th Montreal Alouettes at Calgary Stampeders 7:00 PM EST
July 20th Edmonton Eskimos at BC Lions 10:00 PM EST
July 21st Hamilton Tiger-Cats at Saskatchewan Roughriders 7:00 PM EST
CFL 2013 Week 5 Schedule:
July 25th Edmonton Eskimos at Montreal Alouettes 7:30 PM EST
July 26th Calgary Stampeders at Winnipeg Blue Bombers 8:00 PM EST
July 27th Saskatchewan Roughriders at Hamilton Tiger-Cats 7:30 PM EST
July 30th BC Lions at Toronto Argonauts 7:30 PM EST
CFL 2013 Week 6 Schedule:
August 2nd Hamilton Tiger-Cats at Edmonton Eskimos 9:00 PM EST
August 5th Winnipeg Blue Bombers at BC Lions 7:00 PM EST
CFL 2013 Week 7 Schedule:
August 8th Toronto Argonauts at Montreal Alouettes 7:30 PM EST
August 9th Saskatchewan Roughriders at Calgary Stampeders 9:00 PM EST
CFL 2013 Week 8 Schedule:
August 16th Hamilton Tiger-Cats at Winnipeg Blue Bombers 8:00 PM EST
August 17th Montreal Alouettes at Saskatchewan Roughriders 4:00 PM EST
August 17th Calgary Stampeders at BC Lions 9:00 PM EST
August 18th Edmonton Eskimos at Toronto Argonauts 7:00 PM EST
CFL 2013 Week 9 Schedule:
August 22nd BC Lions at Montreal Alouettes 7:30 PM EST
August 23rd Calgary Stampeders at Toronto Argonauts 7:30 PM EST
August 24th Winnipeg Blue Bombers at Hamilton Tiger-Cats 1:00 PM EST
August 24th Saskatchewan Roughriders at Edmonton Eskimos 4:00 PM EST
CFL 2013 Week 10 Schedule:
August 30th Hamilton Tiger-Cats at BC Lions 10:00 PM EST
September 1st Winnipeg Blue Bombers at Saskatchewan Roughriders 4:00 PM EST
September 2nd Edmonton Eskimos at Calgary Stampeders 5:00 PM EST
September 3rd Montreal Alouettes at Toronto Argonauts 7:30 PM EST
CFL 2013 Week 11 Schedule:
September 6th Calgary Stampeders at Edmonton Eskimos 9:00 PM EST
September 7th BC Lions at Hamilton Tiger-Cats 4:00 PM EST
September 8th Toronto Argonauts at Montreal Alouettes 1:00 PM EST
September 8th Saskatchewan Roughriders at Winnipeg Blue Bombers 4:00 PM EST
CFL 2013 Week 12 Schedule:
September 13th Hamilton Tiger-Cats at Calgary Stampeders 9:00 PM EST
September 14th Winnipeg Blue Bombers at Edmonton Eskimos 6:30 PM EST
September 14th Toronto Argonauts at Saskatchewan Roughriders 9:30 PM EST
September 15th Montreal Alouettes at BC Lions 4:30 PM EST
CFL 2013 Week 13 Schedule:
September 20th Edmonton Eskimos at Winnipeg Blue Bombers 8:00 PM EST
September 21st Montreal Alouettes at Hamilton Tiger-Cats 4:00 PM EST
September 21st Toronto Argonauts at Calgary Stampeders 7:30 PM EST
September 22nd BC Lions at Saskatchewan Roughriders 4:30 PM EST
CFL 2013 Week 14 Schedule:
September 27th BC Lions at Winnipeg Blue Bombers 8:00 PM EST
September 28th Calgary Stampeders at Hamilton Tiger-Cats 6:00 PM EST
September 28th Toronto Argonauts at Edmonton Eskimos 9:00 PM EST
September 29th Saskatchewan Roughriders at Montreal Alouettes 1:00 PM EST
CFL 2013 Week 15 Schedule:
October 4th Hamilton Tiger-Cats at Toronto Argonauts 7:00 PM EST
October 4th Saskatchewan Roughriders at BC Lions 10:00 PM EST
October 5th Montreal Alouettes at Edmonton Eskimos 3:30 PM EST
October 6th Winnipeg Blue Bombers at Calgary Stampeders 6:30 PM EST
CFL 2013 Week 16 Schedule:
October 11th BC Lions at Calgary Stampeders 9:00 PM EST
October 12th Edmonton Eskimos at Saskatchewan Roughriders 4:30 PM EST
October 14th Winnipeg Blue Bombers at Montreal Alouettes 1:00 PM EST
October 14th Toronto Argonauts at Hamilton Tiger-Cats 4:30 PM EST
CFL 2013 Week 17 Schedule:
October 18th Calgary Stampeders at Edmonton Eskimos 9:00 PM EST
October 19th Toronto Argonauts at Winnipeg Blue Bombers 3:30 PM EST
October 19th BC Lions at Saskatchewan Roughriders 7:00 PM EST
October 20th Hamilton Tiger-Cats at Montreal Alouettes 1:00 PM EST
CFL 2013 Week 18 Schedule:
October 24th Winnipeg Blue Bombers at Toronto Argonauts 7:30 PM EST
October 25th Edmonton Eskimos at BC Lions 10:00 PM EST
October 26th Montreal Alouettes at Hamilton Tiger-Cats 1:00 PM EST
October 26th Saskatchewan Roughriders at Calgary Stampeders 7:00 PM EST
CFL 2013 Week 19 Schedule:
November 1st Montreal Alouettes at Toronto Argonauts 7:00 PM EST
November 1st Calgary Stampeders at BC Lions 10:00 PM EST
November 2nd Hamilton Tiger-Cats at Winnipeg Blue Bombers 2:00 PM EST
November 2nd Edmonton Eskimos at Saskatchewan Roughriders 5:00 PM EST
[social]