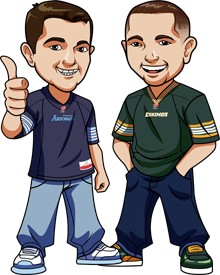 Written by Graeme & Scott on Wednesday, April 29th, 2015
Follow @BetCFL
We're getting very close to the beginning of the CFL 2015 season.
In this article, we're going to be listing the CFL 2015 Schedule. We currently have two schedules – EST and CST. So add or subtract the amount of hours required to figure out when exactly your games are.
We've also presented this list in a nice and simple Printable schedule format. So that way if you need a printable CFL schedule – well, you're good to go here!
If for some reason you DO need it in another timezone – MST, PST or whatever just contact us via Facebook(on the right sidebar there) and we'll get that up for you as well with the complete new timezone listed.
Quick note:
The CFL Playoffs Semi-Final matches will take place Sunday, November 15th with the Playoff Finals on the following Sunday, Sunday November 22nd.
The 2015 Grey Cup takes place on November 29th, in Winnipeg. It will be the 103rd Grey Cup.
CFL 2015 Schedule in EST:
Pre-Season A:
June 08 Hamilton Tiger-Cats at Ottawa Redblacks at 7:30 PM
Pre-Season B:
June 09 Toronto Argonauts at Winnipeg Blue Bombers at 7:30 PM
June 12 Calgary Stampeders at B.C. Lions at 9:30 PM
June 13 Ottawa Redblacks at Montreal Alouettes at 7:30 PM
June 13 Edmonton Eskimos at Saskatchewan Roughriders at 10:00 PM
Pre-Season C:
B.C. Lions at Edmonton Eskimos(Date/Location to be decided)
June 18 Montreal Alouettes at Toronto Argonauts at 7:30 PM
June 19 Winnipeg Blue Bombers at Hamilton Tiger-Cats at 8:30 PM
June 19 Saskatchewan Roughriders at Calgary Stampeders at 9:30 PM
Week 1:
June 25 Montreal Alouettes at Ottawa Redblacks at 7:30 PM
June 26 Calgary Stampeders at Hamilton Tiger-Cats at 9:00 PM
June 27 Toronto Argonauts at Edmonton Eskimos at 5:00 PM
June 27 Saskatchewan Roughriders at Winnipeg Blue Bombers at 8:00 PM
Week 2:
July 02 Winnipeg Blue Bombers at Hamilton Tiger-Cats at 8:30 PM
July 03 Montreal Alouettes at Calgary Stampeders at 7:30 PM
July 04 Ottawa Redblacks at B.C. Lions at 6:00 PM
July 05 Saskatchewan Roughriders at Toronto Argonauts at 3:30 PM
Week 3:
July 09 Edmonton Eskimos at Ottawa Redblacks at 9:00 PM
July 10 Winnipeg Blue Bombers at Montreal Alouettes at 7:00 PM
July 10 B.C. Lions at Saskatchewan Roughriders at 10:00 PM
July 13 Calgary Stampeders at Toronto Argonauts at 9:00 PM
Week 4:
July 16 Montreal Alouettes at Hamilton Tiger-Cats at 7:30 PM
July 17 Ottawa Redblacks at Edmonton Eskimos at 7:00 PM
July 17 Saskatchewan Roughriders at B.C. Lions at 10:00 PM
July 18 Calgary Stampeders at Winnipeg Blue Bombers at 7:00 PM
Week 5:
July 24 Ottawa Redblacks at Calgary Stampeders at 7:00 PM
July 24 B.C. Lions at Toronto Argonauts at 10:00 PM
July 25 Edmonton Eskimos at Winnipeg Blue Bombers at 7:00 PM
July 26 Saskatchewan Roughriders at Hamilton Tiger-Cats at 7:00 PM
Week 6:
July 30 Winnipeg Blue Bombers at B.C. Lions at 8:30 PM
July 31 Edmonton Eskimos at Saskatchewan Roughriders at 9:00 PM
August 01 Calgary Stampeders at Montreal Alouettes at 7:00 PM
August 03 Hamilton Tiger-Cats at Toronto Argonauts at 7:00 PM
Week 7:
August 06 B.C. Lions at Edmonton Eskimos at 10:00 PM
August 07 Ottawa Redblacks at Montreal Alouettes at 7:30 PM
August 08 Toronto Argonauts at Saskatchewan Roughriders at 7:00 PM
August 09 Hamilton Tiger-Cats at Winnipeg Blue Bombers at 5:00 PM
Week 8:
August 13 Montreal Alouettes at Edmonton Eskimos at 7:30 PM
August 14 Winnipeg Blue Bombers at Toronto Argonauts at 8:00 PM
August 15 Hamilton Tiger-Cats at B.C. Lions at 7:00 PM
August 15 Calgary Stampeders at Ottawa Redblacks at 10:00 PM
Week 9:
August 20 B.C. Lions at Montreal Alouettes at 10:00 PM
August 21 Edmonton Eskimos at Hamilton Tiger-Cats at 9:00 PM
August 22 Saskatchewan Roughriders at Calgary Stampeders at 7:00 PM
August 23 Toronto Argonauts at Ottawa Redblacks at 4:00 PM
Week 10:
August 27 Hamilton Tiger-Cats at Montreal Alouettes at 7:30 PM
August 28 Edmonton Eskimos at Toronto Argonauts at 9:00 PM
August 29 Winnipeg Blue Bombers at Calgary Stampeders at 6:00 PM
August 30 Ottawa Redblacks at Saskatchewan Roughriders at 4:00 PM
Week 11:
September 03 Montreal Alouettes at B.C. Lions at 7:30 PM
September 06 Saskatchewan Roughriders at Winnipeg Blue Bombers at 4:00 PM
September 07 Hamilton Tiger-Cats at Toronto Argonauts at 1:00 PM
September 07 Calgary Stampeders at Edmonton Eskimos at 4:30 PM
Week 12:
September 11 Toronto Argonauts at Hamilton Tiger-Cats at 7:30 PM
September 12 Winnipeg Blue Bombers at Saskatchewan Roughriders at 6:30 PM
September 12 Edmonton Eskimos at Calgary Stampeders at 9:30 PM
September 13 B.C. Lions at Ottawa Redblacks at 4:00 PM
Week 13:
September 18 Calgary Stampeders at B.C. Lions at 9:00 PM
September 19 Hamilton Tiger-Cats at Edmonton Eskimos at 4:00 PM
September 19 Saskatchewan Roughriders at Ottawa Redblacks at 9:00 PM
September 20 Montreal Alouettes at Winnipeg Blue Bombers at 1:00 PM
Week 14:
September 25 Winnipeg Blue Bombers at Calgary Stampeders at 8:30 PM
September 26 Edmonton Eskimos at B.C. Lions at 4:00 PM
September 26 Ottawa Redblacks at Toronto Argonauts at 7:00 PM
September 27 Saskatchewan Roughriders at Montreal Alouettes at 4:00 PM
Week 15:
October 01 Ottawa Redblacks at Montreal Alouettes at 7:30 PM
October 02 Hamilton Tiger-Cats at Calgary Stampeders at 7:30 PM
October 03 Winnipeg Blue Bombers at Edmonton Eskimos at 4:00 PM
October 03 B.C. Lions at Saskatchewan Roughriders at 7:00 PM
Week 16:
October 06 Toronto Argonauts at Ottawa Redblacks at 7:30 PM
October 09 Hamilton Tiger-Cats at Saskatchewan Roughriders at 7:30 PM
October 10 Calgary Stampeders at Edmonton Eskimos at 7:00 PM
October 10 B.C. Lions at Winnipeg Blue Bombers at 10:00 PM
October 12 Montreal Alouettes at Toronto Argonauts at 1:00 PM
Week 17:
October 16 Ottawa Redblacks at Winnipeg Blue Bombers at 7:30 PM
October 17 Toronto Argonauts at Calgary Stampeders at 4:00 PM
October 17 Edmonton Eskimos at B.C. Lions at 7:00 PM
October 18 Montreal Alouettes at Hamilton Tiger-Cats at 1:00 PM
Week 18:
October 23 Toronto Argonauts at Montreal Alouettes at 7:00 PM
October 23 B.C. Lions at Hamilton Tiger-Cats at 10:00 PM
October 24 Winnipeg Blue Bombers at Ottawa Redblacks at 4:00 PM
October 24 Saskatchewan Roughriders at Edmonton Eskimos at 7:00 PM
Week 19:
October 30 Toronto Argonauts at B.C. Lions at 7:00 PM
October 31 Calgary Stampeders at Saskatchewan Roughriders at 3:00 PM
November 01 Hamilton Tiger-Cats at Ottawa Redblacks at 1:00 PM
November 01 Edmonton Eskimos at Montreal Alouettes at 4:00 PM
Week 20:
November 06 Toronto Argonauts at Winnipeg Blue Bombers at 7:30 PM
November 07 Ottawa Redblacks at Hamilton Tiger-Cats at 4:00 PM
November 07 B.C. Lions at Calgary Stampeders at 7:00 PM
November 08 Montreal Alouettes at Saskatchewan Roughriders at 1:00 PM
CFL 2015 Schedule in CST:
Pre-Season A:
June 08 Hamilton Tiger-Cats at Ottawa Redblacks at 6:30 PM
Pre-Season B:
June 09 Toronto Argonauts at Winnipeg Blue Bombers at 6:30 PM
June 12 Calgary Stampeders at B.C. Lions at 8:30 PM
June 13 Ottawa Redblacks at Montreal Alouettes at 6:30 PM
June 13 Edmonton Eskimos at Saskatchewan Roughriders at 9:00 PM
Pre-Season C:
B.C. Lions at Edmonton Eskimos(Date/Location to be decided)
June 18 Montreal Alouettes at Toronto Argonauts at 6:30 PM
June 19 Winnipeg Blue Bombers at Hamilton Tiger-Cats at 7:30 PM
June 19 Saskatchewan Roughriders at Calgary Stampeders at 8:30 PM
Week 1:
June 25 Montreal Alouettes at Ottawa Redblacks at 6:30 PM
June 26 Calgary Stampeders at Hamilton Tiger-Cats at 8:00 PM
June 27 Toronto Argonauts at Edmonton Eskimos at 4:00 PM
June 27 Saskatchewan Roughriders at Winnipeg Blue Bombers at 7:00 PM
Week 2:
July 02 Winnipeg Blue Bombers at Hamilton Tiger-Cats at 7:30 PM
July 03 Montreal Alouettes at Calgary Stampeders at 6:30 PM
July 04 Ottawa Redblacks at B.C. Lions at 5:00 PM
July 05 Saskatchewan Roughriders at Toronto Argonauts at 2:30 PM
Week 3:
July 09 Edmonton Eskimos at Ottawa Redblacks at 8:00 PM
July 10 Winnipeg Blue Bombers at Montreal Alouettes at 6:00 PM
July 10 B.C. Lions at Saskatchewan Roughriders at 9:00 PM
July 13 Calgary Stampeders at Toronto Argonauts at 8:00 PM
Week 4:
July 16 Montreal Alouettes at Hamilton Tiger-Cats at 6:30 PM
July 17 Ottawa Redblacks at Edmonton Eskimos at 6:00 PM
July 17 Saskatchewan Roughriders at B.C. Lions at 9:00 PM
July 18 Calgary Stampeders at Winnipeg Blue Bombers at 6:00 PM
Week 5:
July 24 Ottawa Redblacks at Calgary Stampeders at 6:00 PM
July 24 B.C. Lions at Toronto Argonauts at 9:00 PM
July 25 Edmonton Eskimos at Winnipeg Blue Bombers at 6:00 PM
July 26 Saskatchewan Roughriders at Hamilton Tiger-Cats at 6:00 PM
Week 6:
July 30 Winnipeg Blue Bombers at B.C. Lions at 7:30 PM
July 31 Edmonton Eskimos at Saskatchewan Roughriders at 8:00 PM
August 01 Calgary Stampeders at Montreal Alouettes at 6:00 PM
August 03 Hamilton Tiger-Cats at Toronto Argonauts at 6:00 PM
Week 7:
August 06 B.C. Lions at Edmonton Eskimos at 9:00 PM
August 07 Ottawa Redblacks at Montreal Alouettes at 6:30 PM
August 08 Toronto Argonauts at Saskatchewan Roughriders at 6:00 PM
August 09 Hamilton Tiger-Cats at Winnipeg Blue Bombers at 4:00 PM
Week 8:
August 13 Montreal Alouettes at Edmonton Eskimos at 6:30 PM
August 14 Winnipeg Blue Bombers at Toronto Argonauts at 7:00 PM
August 15 Hamilton Tiger-Cats at B.C. Lions at 6:00 PM
August 15 Calgary Stampeders at Ottawa Redblacks at 9:00 PM
Week 9:
August 20 B.C. Lions at Montreal Alouettes at 9:00 PM
August 21 Edmonton Eskimos at Hamilton Tiger-Cats at 8:00 PM
August 22 Saskatchewan Roughriders at Calgary Stampeders at 6:00 PM
August 23 Toronto Argonauts at Ottawa Redblacks at 3:00 PM
Week 10:
August 27 Hamilton Tiger-Cats at Montreal Alouettes at 6:30 PM
August 28 Edmonton Eskimos at Toronto Argonauts at 8:00 PM
August 29 Winnipeg Blue Bombers at Calgary Stampeders at 5:00 PM
August 30 Ottawa Redblacks at Saskatchewan Roughriders at 3:00 PM
Week 11:
September 03 Montreal Alouettes at B.C. Lions at 6:30 PM
September 06 Saskatchewan Roughriders at Winnipeg Blue Bombers at 3:00 PM
September 07 Hamilton Tiger-Cats at Toronto Argonauts at 12:00 PM
September 07 Calgary Stampeders at Edmonton Eskimos at 3:30 PM
Week 12:
September 11 Toronto Argonauts at Hamilton Tiger-Cats at 6:30 PM
September 12 Winnipeg Blue Bombers at Saskatchewan Roughriders at 5:30 PM
September 12 Edmonton Eskimos at Calgary Stampeders at 8:30 PM
September 13 B.C. Lions at Ottawa Redblacks at 3:00 PM
Week 13:
September 18 Calgary Stampeders at B.C. Lions at 8:00 PM
September 19 Hamilton Tiger-Cats at Edmonton Eskimos at 3:00 PM
September 19 Saskatchewan Roughriders at Ottawa Redblacks at 8:00 PM
September 20 Montreal Alouettes at Winnipeg Blue Bombers at 12:00 PM
Week 14:
September 25 Winnipeg Blue Bombers at Calgary Stampeders at 7:30 PM
September 26 Edmonton Eskimos at B.C. Lions at 3:00 PM
September 26 Ottawa Redblacks at Toronto Argonauts at 6:00 PM
September 27 Saskatchewan Roughriders at Montreal Alouettes at 3:00 PM
Week 15:
October 01 Ottawa Redblacks at Montreal Alouettes at 6:30 PM
October 02 Hamilton Tiger-Cats at Calgary Stampeders at 6:30 PM
October 03 Winnipeg Blue Bombers at Edmonton Eskimos at 3:00 PM
October 03 B.C. Lions at Saskatchewan Roughriders at 6:00 PM
Week 16:
October 06 Toronto Argonauts at Ottawa Redblacks at 6:30 PM
October 09 Hamilton Tiger-Cats at Saskatchewan Roughriders at 6:30 PM
October 10 Calgary Stampeders at Edmonton Eskimos at 6:00 PM
October 10 B.C. Lions at Winnipeg Blue Bombers at 9:00 PM
October 12 Montreal Alouettes at Toronto Argonauts at 12:00 PM
Week 17:
October 16 Ottawa Redblacks at Winnipeg Blue Bombers at 6:30 PM
October 17 Toronto Argonauts at Calgary Stampeders at 3:00 PM
October 17 Edmonton Eskimos at B.C. Lions at 6:00 PM
October 18 Montreal Alouettes at Hamilton Tiger-Cats at 12:00 PM
Week 18:
October 23 Toronto Argonauts at Montreal Alouettes at 6:00 PM
October 23 B.C. Lions at Hamilton Tiger-Cats at 9:00 PM
October 24 Winnipeg Blue Bombers at Ottawa Redblacks at 3:00 PM
October 24 Saskatchewan Roughriders at Edmonton Eskimos at 6:00 PM
Week 19:
October 30 Toronto Argonauts at B.C. Lions at 6:00 PM
October 31 Calgary Stampeders at Saskatchewan Roughriders at 3:00 PM
November 01 Hamilton Tiger-Cats at Ottawa Redblacks at 12:00 PM
November 01 Edmonton Eskimos at Montreal Alouettes at 3:00 PM
Week 20:
November 06 Toronto Argonauts at Winnipeg Blue Bombers at 6:30 PM
November 07 Ottawa Redblacks at Hamilton Tiger-Cats at 3:00 PM
November 07 B.C. Lions at Calgary Stampeders at 6:00 PM
November 08 Montreal Alouettes at Saskatchewan Roughriders at 12:00 PM
Follow @BetCFL