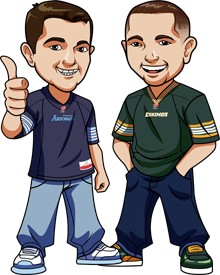 Written by Graeme & Scott on Monday, March 18th, 2019
Follow @BetCFL
On this page you can find the CFL 2019 Regular Season Schedule.
We've offered up this searchable table of the CFL 2019 season so you can easily check the schedule for upcoming games.
It's listed as a breakdown by weeks and then the date provided.
You can look at the entire schedule or use the search option to search for your favourite team and see who the Redblacks or Eskimos are playing only.
This regular season schedule is also printable so if you're looking for a 2019 CFL Season Calendar in printable format, look no more!
One thing we haven't did is timezones. If that's something that interests you, let us know via the comments for the future. If you came here looking for a CFL 2019 Schedule in EST or a CFL Schedule in Mountain Time then let us know so we can start adding that for future years.
It's also a downloadable CFL Regular Season Schedule. Feel free to download it in PDF for Excel Format!
Here's the 2019 CFL Schedule and any questions, hit us up in the comments:
CFL 2019 Regular Season Schedule
| Week: | Date: | Road Team: | Home Team: |
| --- | --- | --- | --- |
| 1 | June 13th | Saskatchewan Roughriders | Hamilton Tiger-Cats |
| 1 | June 14th | Montreal Alouettes | Edmonton Eskimos |
| 1 | June 15th | Ottawa Redblacks | Calgary Stampeders |
| 1 | June 15th | Winnipeg Blue Bombers | B.C. Lions |
| 2 | June 20th | Saskatchewan Roughriders | Ottawa Redblacks |
| 2 | June 21st | B.C. Lions | Edmonton Eskimos |
| 2 | June 22nd | Hamilton Tiger-Cats | Toronto Argonauts |
| 3 | June 27th | Edmonton Eskimos | Winnipeg Blue Bombers |
| 3 | June 28th | Montreal Alouettes | Hamilton Tiger-Cats |
| 3 | June 29th | B.C. Lions | Calgary Stampeders |
| 3 | July 1st | Toronto Argonauts | Saskatchewan Roughriders |
| 4 | July 4th | Hamilton Tiger-Cats | Montreal Alouettes |
| 4 | July 5th | Winnipeg Blue Bombers | Ottawa Redblacks |
| 4 | July 6th | B.C. Lions | Toronto Argonauts |
| 4 | July 6th | Calgary Stampeders | Saskatchewan Roughriders |
| 5 | July 11th | Edmonton Eskimos | B.C. Lions |
| 5 | July 12th | Toronto Argonauts | Winnipeg Blue Bombers |
| 5 | July 13th | Montreal Alouettes | Ottawa Redblacks |
| 5 | July 13th | Calgary Stampeders | Hamilton Tiger-Cats |
| 6 | July 18th | Toronto Argonauts | Calgary Stampeders |
| 6 | July 19th | Ottawa Redblacks | Winnipeg Blue Bombers |
| 6 | July 20th | Edmonton Eskimos | Montreal Alouettes |
| 6 | July 20th | B.C. Lions | Saskatchewan Roughriders |
| 7 | July 25th | Calgary Stampeders | Ottawa Redblacks |
| 7 | July 25th | Toronto Argonauts | Edmonton Eskimos |
| 7 | July 26th | Winnipeg Blue Bombers | Hamilton Tiger-Cats |
| 7 | July 27th | Saskatchewan Roughriders | B.C. Lions |
| 8 | August 1st | Winnipeg Blue Bombers | Toronto Argonauts |
| 8 | August 1st | Hamilton Tiger-Cats | Saskatchewan Roughriders |
| 8 | August 2nd | Ottawa Redblacks | Montreal Alouettes |
| 8 | August 3rd | Edmonton Eskimos | Calgary Stampeders |
| 9 | August 8th | Calgary Stampeders | Winnipeg Blue Bombers |
| 9 | August 9th | Saskatchewan Roughriders | Montreal Alouettes |
| 9 | August 9th | Ottawa Redblacks | Edmonton Eskimos |
| 9 | August 10th | B.C. Lions | Hamilton Tiger-Cats |
| 10 | August 15th | B.C. Lions | Winnipeg Blue Bombers |
| 10 | August 16th | Edmonton Eskimos | Toronto Argonauts |
| 10 | August 17th | Hamilton Tiger-Cats | Ottawa Redblacks |
| 10 | August 17th | Montreal Alouettes | Calgary Stampeders |
| 11 | August 23rd | Winnipeg Blue Bombers | Edmonton Eskimos |
| 11 | August 24th | Ottawa Redblacks | Saskatchewan Roughriders |
| 11 | August 24th | Hamilton Tiger-Cats | B.C. Lions |
| 11 | August 25th | Montreal Alouettes | Toronto Argonauts |
| 12 | September 1st | Winnipeg Blue Bombers | Saskatchewan Roughriders |
| 12 | September 2nd | Toronto Argonauts | Hamilton Tiger-Cats |
| 12 | Septembe 2nd | Edmonton Eskimos | Calgary Stampeders |
| 13 | September 6th | B.C. Lions | Montreal Alouettes |
| 13 | September 7th | Toronto Argonauts | Ottawa Redblacks |
| 13 | September 7th | Saskatchewan Roughriders | Winnipeg Blue Bombers |
| 13 | September 7th | Calgary Stampeders | Edmonton Eskimos |
| 14 | September 13th | Ottawa Redblacks | B.C. Lions |
| 14 | September 14th | Hamilton Tiger-Cats | Calgary Stampeders |
| 14 | September 14th | Montreal Alouettes | Saskatchewan Roughriders |
| 15 | September 20th | Calgary Stampeders | Toronto Argonauts |
| 15 | September 20th | Hamilton Tiger-Cats | Edmonton Eskimos |
| 15 | September 21st | Winnipeg Blue Bombers | Montreal Alouettes |
| 15 | September 21st | B.C. Lions | Ottawa Redblacks |
| 16 | September 27th | Hamilton Tiger-Cats | Winnipeg Blue Bombers |
| 16 | September 28th | Edmonton Eskimos | Ottawa Redblacks |
| 16 | September 28th | Saskatchewan Roughriders | Toronto Argonauts |
| 16 | September 28th | Montreal Alouettes | B.C. Lions |
| 17 | October 4th | Edmonton Eskimos | Hamilton Tiger-Cats |
| 17 | October 5th | Calgary Stampeders | Montreal Alouettes |
| 17 | October 5th | Winnipeg Blue Bombers | Saskatchewan Roughriders |
| 17 | October 5th | Toronto Argonauts | B.C. Lions |
Follow @BetCFL