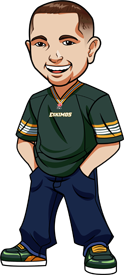 Written by Graeme on Saturday, January 10th, 2015
Follow @BetCFL
With the CFL season currently over, we still like to write once a month here to keep things fresh. We'll be talking about the CFL Draft for example – and how the betting odds are after that.
However with the divisional playoffs in the NFL happening this weekend, I thought it'd be fun to talk about fantasy sports – in particular, daily fantasy sports.
This weekend there are 4 games, and at a website such as DraftKings you can pick a fantasy team(with various salary restrictions) to participate in fantasy tournaments.
For the last week we've been researching this like crazy; number crunching, reading everything, running simulations etc – and we've came up with 6 fantasy teams to enter based on various theories.
We wanted to cover 3 of those teams this week, and the thought process behind going with them:
Team #1: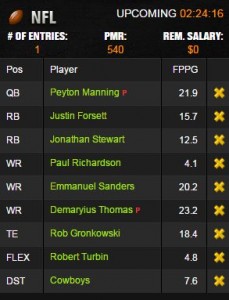 This team was based on the Denver Broncos having a big game. We think win or lose, that's a real possibility that they put up the numbers. So we've got Peyton Manning of course, then we picked their two major wide receivers.
That's a great strategy – you're betting on one team and if they perform, then there's a good chance you will cash when it's a limited field like this.
Once we did that, it was a case of building the rest of the team around that. We could have average players, or we could have one solid player and some low players. We think Patriots could have a big game so went with Gronk.
The rest was essentially building around the major players that we had picked up. Some might surprise us(Richardson, Turbin) and some should have solid games regardless(Forsett, Stewart) so it's a nicely balanced team.
Team #2: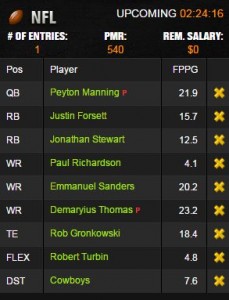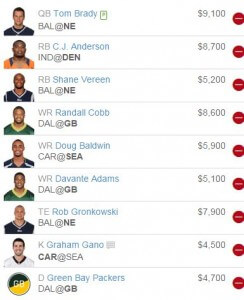 This one is based off a ton of math we did covering all the players. There were a few key players we wanted to go for, as well as the team of the Patriots.
We have a very similar selection as one of our other picks with one notable difference: Vereen out, Blount in.
That's the thing you need to do with fantasy sports – if there's a variable like that, don't always ignore it. The Patriots RB situation is crazy – but it should mean the best numbers. What's even better is there is value – the salary for the Patriots running backs are super low due to this.
This is a good spot to run the risk and try out both of them. Our teams are solid enough too that even if one RB doesnt put up the points we may cash regardless.
Here we went for a mix too – we picked the favoured teams and went with their offense. C.J. Anderson in the RB spot for example, then Randall Cobb as a WR. Good thing with football is even is there an upset, they should put up the numbers regardless.
Team #3: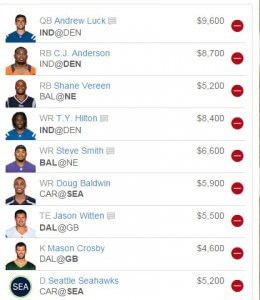 Our final team is very similar as you can see – but just a few tweaks. We went with the Seattle Seahawks defense who you expect big things from, and we relied more on the Colts by going with Andrew Luck and T.Y. Hilton.
There are still some players who we liked enough to keep around obviously – but we made some key changes based on the offenses.
If you haven't ever played Daily Fantasy Sports, this is the best weekend to do so. It's only for USA and Canada but seriously – head on over to DraftKings and get started.
Follow @BetCFL