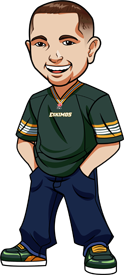 Written by Graeme on Friday, January 31st, 2014
Follow @BetCFL
Well it's the CFL off-season, and we sit around anxiously awaiting the CFL 2014 season to kick off.
There are quite a few moves going on during the off-season that is interesting. Head coaches and general managers have been replaced, free agents have been picked up and other players are being cut.
Here are some of the bigger stories of the past month:
Tiger-Cats have dumped Henry Burris, and signed Zach Collaros
Dressler has left the Roughriders, heading to the NFL. He worked out with the Kansas City Chiefs so it is possible he will go there.
Veteran QB Kerry Joseph cut by the Eskimos. Hopes to sign with the Roughriders then possibly immediately retire.
Tiger-Cats trade Bucknor to the Blue Bombers, in return for Aprile.
Dimitri Tsoumpas of the Calgary Stampeders has retired.
Tim St.Pierre re-signs with the Stampeders.
Stampeders re-sign Jamar Wall.
Those are just some of the key news stories in the CFL in January 2014.
Betting wise, there isn't too much to bet on. You can currently bet on the 2014 Grey Cup winners. Obviously that's a long way off. Here are the current odds:
BC Lions: 4.51
Saskatchewan Roughriders: 4.95
Calgary Stampeders: 5.02
Toronto Argonauts: 7.97
Hamilton Tiger-Cats: 8.02
Montreal Alouettes: 9.00
Edmonton Eskimos: 10.00
Winnipeg Blue Bombers: 13.00
Ottawa RedBlacks: 26.00
Of course, we're all curious to see how the Ottawa RedBlacks do, and it'll be fun to have another team in the CFL.
The 102nd Grey Cup, which is the 2014 Grey Cup, will be played in BC. You may have heard that initially it was going to be in Ottawa, but the stadium wasn't expected to be ready by then.
Obviously, the BC Lions are favourites based on that. But the odds are too short with the draft still to go underway for example.
One team I really like, is the Hamilton Tiger-Cats. They've made some moves during the off-season that have been impressive, and I think they have a good chance this year. The 8.02 odds aren't too bad. The question is who they pick up in the draft. This years draft is dominated by Offensive Linemen so it will be interesting to see who everyone goes for. Personally I think the RedBlacks will go for Devon bailey, the top WR in the draft.
Either way, we'll keep you updated on the odds as things go. I can't wait for the CFL 2014 season to kick off, and if you want to bet any futures do it at Bovada.
Follow @BetCFL