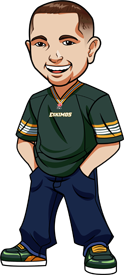 Written by Graeme on Friday, March 21st, 2014
Follow @BetCFL
Hi guys,
I know everyone here is subscribed for the CFL Tips, but I was able to hook up a pretty sweet free bet deal that I wanted to share. Considering practically all of you are Canadian then you'll hopefully want to take advantage of this.
I should note that if you're American – you're also eligible! This free bet is available for everyone from the USA and Canada. It's exclusive to the NHL hockey though – you can't take this free bet and hold onto it until the CFL season sadly.
Although I am going to try and get them to give us a CFL free bet too – that would be cool.
Okay – so first of all no deposit is needed for this free bet. The bet itself is worth $10, and you don't need to deposit. You basically register, tell the live chat support our exclusive promo code and you're good to go.
Here's a bullet list of how to do it and then I'll go into more detail below:
Visit online sportsbook GT Bets via this exclusive link.
Register a new account. When registering, ignore the "referred by" field but be sure to fill in the promotion code field with the code NHLBETS.
Once registered, give live chat a message. Tell them you are claiming promotion code NHLBETS and then give them your account ID.
They will activate the $10 free bet for you.
So now you have the free bet – you need to know how it works. You get $10 in your account. You can bet on EITHER a team to win, or the Over/Under. So if the Leafs are playing the Montreal Canadiens for example, you could bet on the Leafs to win or the Canadiens to win, or Over 5.5 goals or Under 5.5 goals.
You don't need to use the free bet right away – you can save it until you need it which is very important due to this next part.
Once you place your bet – it's gone. You keep the WINNINGS. So if you bet $10 to win $7 on the Canadiens to win – if the Habs win, you will have $7 in you account.
That's why it's important you be selective – you want to go for something with higher odds, to give you a better chance of free money. I mean maybe you don't – you could do a $10 to win $3.50 bet on a very low odds game such as Sharks to beat the Oilers, and then slowly build up your money. Up to you.
As mentioned – this is completely risk free. If you lose the free bet you haven't lost any actual money or anything like that. GT Bets are offering this because they feel they are one of the best online sportsbooks online, and want to prove that to everyone by giving them this free entry to see how good they are basically.
So click through to GTBets and claim your free $10 today. Not sure how much longer we will have the deal so best to claim now.
Follow @BetCFL