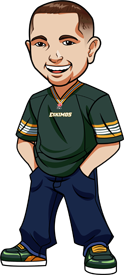 Written by Graeme on Tuesday, April 22nd, 2014
Follow @BetCFL
Well – out of nowhere, the CFL was in all the news. Not just on TSN or The Score – but down in the States as well. Fox Sports and many other major sports stations were suddenly talking about the CFL.
Was it because they discovered some of the raw talent available in the CFL? Discovered some hot prospects? Realized just how damn exciting the CFL was?
Of course not. It was because Ochocinco signed.
Chad Ochocinco Johnson, formerly with the Cincinnatti Bengals and New England Patriots. Signed up by the Montreal Alouettes for 2 years.
Awesome.
Ochocinco has had his problems, but anything that gets people to pay more attention to the CFL is a good thing. And suddenly the singing of Ochocinco has people interested.
But the big question is -how has this affected the betting odds? Have the Alouettes rushed to the top of the list as favourites due to one player?
Not really.
They HAVE jumped over. Here are the odds prior to Ochocinco signing, and after:
Odds Before Ochocinco:
BC Lions: 4.51
Saskatchewan Roughriders: 4.95
Calgary Stampeders: 5.02
Toronto Argonauts: 7.97
Hamilton Tiger-Cats: 8.02
Montreal Alouettes: 9.00
Edmonton Eskimos: 10.00
Winnipeg Blue Bombers: 13.00
Ottawa RedBlacks: 26.00
Odds After Ochocinco:
BC Lions: 4.26
Saskatchewan Roughriders: 4.97
Calgary Stampeders: 5.04
Toronto Argonauts: 6.45
Hamilton Tiger-Cats: 6.98
Montreal Alouettes: 8.09
Edmonton Eskimos: 11.00
Winnipeg Blue Bombers: 17.00
Ottawa RedBlacks: 25.00
I should note the original odds were back in late January. These odds will also change like crazy based on the draft coming up in May. May 13 is the date of the CFL Draft for those wondering.
So as you can see – not a big change. However we spoke to our CFL Linesmaker and asked him – and he said after a couple of weeks of practically no action, they saw quite a fair amount of action placed on the Montreal Alouettes to push it from that 9.00 line to 8.09. He also expects it to jump even further later on, as right now most people aren't even aware you can bet on futures such as who will win the 2014 CFL Grey Cup.
Interesting stuff. What's also interesting is how big the Toronto Argonauts have recently jumped – from 7.97 to 6.45. Tiger-Cats as well, 8.02 to 6.98. Lot of good buzz around those camps that's for sure.
The big news of course is the CFL Draft coming up. That's where we'll see the BIGGEST impact on the odds for the CFL Grey Cup 2014. The main starts for this draft are of course offensive and defensive linesman. Laurent Duvernay-Tardif remains at #1. As someone from Kingston, I'd like to see Andrew Lue drafted high. He dropped from #8 to #10 in the prospects, but the Queens alumni is a top DB and I think he will be a big hit in the CFL.
Anyway – Ochocinco didn't affect the odds too much. I'll be back in May with a full analysis of the draft, and if there is any CFL Draft Betting Odds available, we'll be sure to analyze them for you.
All betting odds are taken from the #1 CFL Sportsbook, https://www.sportsinteraction.com.
Follow @BetCFL