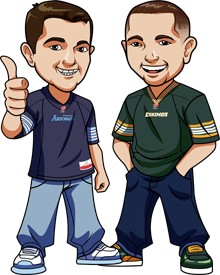 Written by Graeme & Scott on Friday, June 21st, 2013
The big question – who is going to win the CFL Grey Cup in 2013?
It's a tough one, that's for sure. I mean you sit down and watch a few NFL games you know who is going to be making the playoffs for sure – but it can be a lot tougher in the CFL and as we've seen – playoff upsets happen often.
For relevance, we've written articles on CFL Team to Win the East and CFL Team to Win the West. In each of those articles, we've provided a betting preview team by team. That will back up our predictions in here.
First, here are the betting odds to win the 2013 CFL Grey Cup:
CFL Betting Odds: To Win The 2013 Grey Cup
BC Lions: 4.00
Calgary Stampeders: 5.00
Montreal Alouettes: 5.50
Saskatchewan Roughriders: 6.00
Toronto Argonauts: 6.50
Hamilton Tiger-Cats: 8.00
Edmonton Eskimos: 10.00
Winnipeg Blue Bombers: 11.00
All odds are taken from Bovada for Americans and Sports Interaction for everyone else.
We should also mention that if you want to bet on the EXACT MATCHUP of the Grey Cup 2013 – ie: you want to bet the Stampeders vs Argonauts would be the final matchup, you can do that at Bovada.
Our recommendation is the Calgary Stampeders.
Calgary were unlucky last year. They played against Toronto in the Grey Cup, in Toronto. That's tough and the Toronto crowd really inspired the Argos to the win.
This year, the Grey Cup is in Saskatchewan. We don't see the Roughriders making it. We consulted with our CFL Linesmaker who confirmed that a lot of money is going on the Roughriders. This is purely due to the "host city" rule that sports betters have.
Due to this, the odds of the Roughriders have been slashed considerably. Seriously – the Roughriders at 6.00 odds and the Argonauts at 6.50 odds? Crazy. Just crazy.
One big question about Calgary is the QB position. Drew Tate had a lot of issues last season, however we really think he can stay injury-free this year. He knows his limitations, he knows what occured last season – but he still seems hungry. If he can stay injury-free we see no reason he can't lead them into the Grey Cup final, and win the big one.
The Stampeders defensive unit seems very strong too this year. The whole team will be determined not to let last year get to them, and with that as inspiration and motivation coupled with the fantastic odds – we have to recommend the Stampeders to win the Grey Cup.
Bet that at Bovada for Americans and Sports Interaction for everyone else.
Grey Cup Matchup: Stampeders vs Argonauts
This betting option is ONLY available at Bovada.
The odds on this one are 7.50 odds. Unfortunately, relatively low considering the Roughriders vs Argonauts is 13.00 odds. However we still really like this one.
We outlined Calgary above. In the East, the Alouettes made a ton of changes, and Hawkins is under a lot of pressure. The Argos meanwhile have mostly built on their team from last season with some nice pickups and a solid backup line. Ricky Ray still looks hungry, and of course Chad Owens is back. Plus Khalif Mitchell still has something to provie.
Out of all the teams in the East, we like the Argos the best. Winning the Grey Cup last year will help them this year in regard to lack of pressure once it comes to playoff time. We really like the Stampders vs Argonauts exact matchup – just a pity the odds aren't greater.
You can bet that at Bovada.
[social]