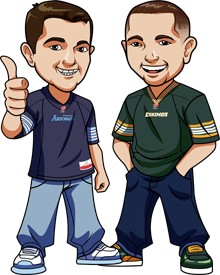 Written by Graeme & Scott on Wednesday, June 26th, 2013
Follow @BetCFL
The CFL season starts tomorrow, Thursday June 26th, 2013.
Bovada have just released a TON of player season props for the whole 2013 season, however if you want to bet any of these you will have to act fast, as they will be taken off the board after the first round of games kick off – and they may even be taken off early – as in, when the first game kicks off on Thursday.
There are honestly too many player props to go through. Here is an example of the props available – we have your typical entertainment props and then your serious props:
CFL Betting Player Props:
Will Chris Williams play a single CFL game this season?
How many different QBs will the Blue Bombers rotate?
How many starts will Buck Pierce make?
Is this Calvillo's last year?
On top of that they offer passing yards, rushing yards, TD passes, interceptions etc props for a wide variety of players.
Seriously too many to mention here, and you can head to Bovada for the full list.
But what about CFL player prop betting tips? Is there any value to be had in this? Of course there is. Let's get going with some CFL player prop betting picks to get you rolling:
Will Chris Williams play a single game?
In our opinion, the answer to this one is no. The odds on this are quite high at 3.00 odds, which is what we like.
The season starts tomorrow and there's just no news on this front. Hamilton look like they're planning on moving on, and there's no noise coming from the Williams camp.
The only tricky thing here is the way it is worded – it's not if he will play a single game for the Tiger Cats – it's in the CFL. It opens up the possibility that he could end up playing somewhere else.
But the 3.00 odds are just too high to ignore. Bet "No" on this one at Bovada
Buck Pierce: How Many Starts
The line on Buck Pierce and his starts this season is 11.5.
We're going to take the UNDER on that one.
Winnipeg have 3 other awesome quarterbacks – Goltz, Hall and Clement. Even if Pierce is healthy, I can see the Blue Bombers rotating the line a fair bit and giving the other quarterbacks experience – seeing if one of them can step up. And all it takes is one good game
We think there's just too good a chance that another QB will step up. Plus if Pierce is still injury prone then this could be a no brainer.
Bet under 11.5 starts at Bovada.
Arland Bruce III: Over 5 Recieving Touchdowns
The Alouettes should most likely dominate the East. We still like the Argos, but the Alouettes will rack up the points. And we think a lot of that will come down to Arland Bruce III.
He has a lot to prove. This is his 12 year and he's teaming up with a new QB – but all things out of training camp have been good. He wasn't a big part of the BC lions last year but still managed to take in 5 TDs.
The over/under on recieving touchdowns is 5, and we'll take the over on this one over at Bovada.
Additional CFL Player Props:
If you want any specific player props betting tips, please hit us up on Facebook or Twitter and we can provide analysis on it for you.
Remember the CFL season kicks off Thursday, June 27th so head on over to Bovada and get those player props bets in ASAP!
Follow @BetCFL