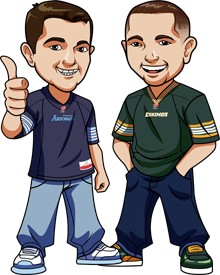 Written by Graeme & Scott on Friday, September 5th, 2014
Follow @BetCFL
I have to keep these short this week as I have very little time
The Alouettes beat the Redblacks 20-10 behind a strong performance from Duron Carter who finished with a game-high 127 yards on five reception
The Rough Riders beat the Blue Bombers 35-30 when Anthony Allen ran for a go-ahead 15-yard touchdown with 28 seconds. With the win the Riders are now tied with the Stamps for first overall
Zach Collaros got some redemption when he passed for 317 yards and one touchdown against his former team, leading the Tiger-Cats to a 13-12 win over the Argonauts
And the big game of the week was a great one just not as close as I thought it would be. Jon Cornish rushed for 163 yards with a touchdown to help the Stampeders to the 28-13 win over the Eskimos
Here's the CFL Week 11 Schedule:
Friday, September 5th: Lions vs Redblacks @ 7:30pm
Saturday, September 6th: Stampeders vs Eskimos @ 7:00pm
Sunday, September 8th: Tiger-Cats vs Alouettes @ 1:00pm, Rough Riders vs Blue Bombers @ 4:00pm
Lions vs Redblacks Betting Tips
The Lions are coming off of a loss and a bye week so they will be healthy and ready to take on this weak Ottawa squad
This is a crucial game for the Lions at this point in the season. We have to like their chances for a big win
Lions -8 at Bovada
Stampeders vs Eskimos Betting Tips
Part two of the home and home for these two teams.
The Stamps won at home last weekend to gain sole spot in first in the league.
We are going to go with the Eskimos in this one us they are getting +3
Eskimos +3at Bovada for 1.91 odds
Tiger-Cats vs Alouettes Betting Tips
Hamilton looked great in their last game and specifically Zach Collaros.
But Montreal is the better team. Their QB, Jonathan Crompton, will be starting his third game straight so he and the team will be better prepared.
We are going to go with The Alouettes money line For 2.05 odds at Bovada
Rough Riders vs Blue Bombers Betting Tips
Another amazing game we have here. It was last week that they played in Saskatchewan with the Rider coming away with the win
Well this time it's going to go the Blue Bombers way. This could be the game of the week
Blue Bombers +2.5 is the bet and place it at Bovada
Follow @BetCFL