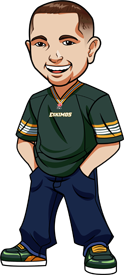 Written by Graeme on Friday, December 17th, 2021
Follow @BetCFL
Well the CFL season is over, and it was another successful season betting tips-wise.
To make it all the sweeter, we correctly picked the Grey Cup Winner as the Winnipeg Blue Bombers got the big win in Hamilton.
With the season over until next year, we'll resume our usual schedule of posting random CFL and gambling-related articles here once or twice per month just to keep things fresh. Always fun to write content not related to the CFL.
First up we are going to go through our five most popular countries by the visitor, and provide advisements as to websites to gamble at during the off-season:
Canada: Where To Gamble
No surprise that Canada is our most popular audience, is it? If you're looking to do some gambling during the off-season, we advise Sports Interaction.
You'll see their banners all over the site if you're Canadian and for good reason – they're an absolutely spectacular outfit. If you're looking to bet on other sports such as the NHL or NFL then you are all set as they offer all the lines, lots of player props, etc.
Where they really excel though is their casino as they feature the best online casino in Canada. Their live dealer selection especially is phenomenal.
We don't advise them just for the fun of it – we advise them because they're a quality sportsbook and casino. Their CFL coverage is immense.
Italy; Where To Gamble
Surprisingly, Italy is our next biggest audience when it comes to the CFL.
With regulations etc., it's not really a country we are very familiar with in terms of where to gamble. But we did some research and there's a website called ProCasino.it that seems to be the most comprehensive guide out there for Italian gaming.
Along with covering all of the most popular games such as Roulette, Blackjack, etc they also have a section on free spins and many other promotions.
If you're Italian, that's the website to check out.
America: Where To Gamble
I'm sure most Americans have accounts at the most popular sportsbooks such as Bovada. Or you are in a specific state where it's legalized and you bet through Draftkings etc.
One sportsbook/casino you may not be familiar with is MyBookie and they are a great option if you're looking for a new deposit bonus to claim.
They have a special promotion where you get to double your first deposit with a maximum of $1000 – AND they give you a $20 casino chip on top of that.
They run various contests throughout the year too such as a $100,000 Survivor contest or the infamous MyBookie Supercontest.
They have an excellent online casino as well with special deposit bonuses, live dealers, and a lot of jackpot slots.
Well worth opening an account there. They do of course cover the CFL as well.
UK: Where To Gamble
I mean the best place without a shadow of a doubt is Bet365.
They have the most comprehensive sports betting section, and also an incredible selection of casino games as well.
I suggested an alternative to the Americans – but if you live in the UK, the only place you really need an account at is Bet365.
Sweden: Where To Gamble
Our 5th most popular country is Sweden.
For Sweden, we advise checking out Casumo. A lot of people assume they are just an online casino but they use one of the best sportsbook providers out there – Kambi.
Kambi power the likes of 888 and Mr. Green and are one of the best online sportsbook providers so you have an incredible selection of sports to bet on. Heck, you can even bet on the WWE!
On the casino front, they offer great bonuses, free spins, an exceptional selection of games, and a phenomenal live casino as well. They actually have live baccarat and poker.
So if you are Swedish, Casumo is the place to be.
Follow @BetCFL